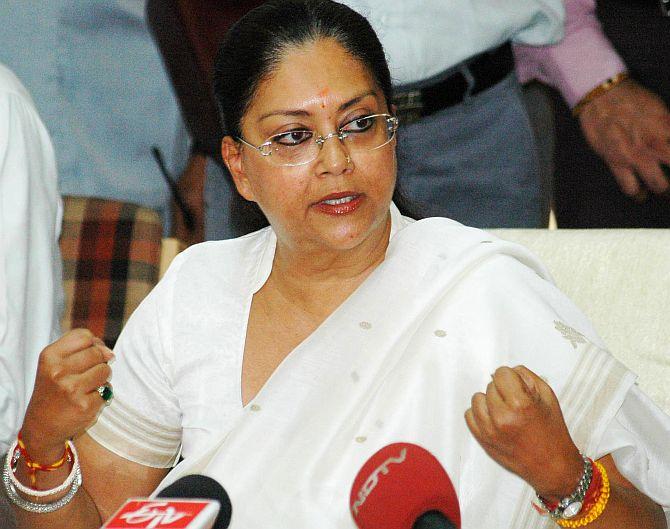 With no major achievement in two years, so far, the Rajasthan CM has been blaming the previous government's policies for the below-average performance.
On December 13, 2013, when Vasundhara Raje took oath as the chief minister of Rajasthan for a second time, her first instruction was to clean the garbage and remove posters from the walls of Jaipur city.
Overnight, big-size trucks fitted with vacuum cleaners rolled down the streets to collect trash. A fresh coat of paint was applied to dusty pavements and public railings, welcoming the new government.
Raje, through surprise visits, ensured officials and municipal workers remained on their toes. Many in the state believe it was an early sign of Raje's new avatar. The chief minister was not only concerned about cleanliness, but about changing the perception of Rajasthan from one of the Bimaru -- Bihar, Madhya Pradesh, Rajasthan, Uttar Pradesh -- states to a progressive one.
It appeared Raje wanted to disassociate with her previously imposed image of '8 pm, no CM' and maharani (queen). She immediately began reviewing government functions in meetings that sometimes stretched into late nights. She imposed fines on ministers coming late for these meetings and would sometimes ask bureaucrats to give a presentation without waiting for the minister concerned.
Yet, despite serious intent and the comfort of having pulled off an unprecedented victory in the assembly elections, Raje could not initiate any big reform during the first year of her rule. She blames it on the model code of conduct put in force for the ensuing parliamentary elections, and thereafter for the bypolls and panchayat and municipal elections.
Though her Bharatiya Janata Party won all the 25 Lok Sabha seats in the state, riding on the 'Modi wave', the party lost three of four seats in bypolls right after.
"It was mainly because Raje cut down on social schemes such as free medicine, and inordinate delays in old-age pension and scholarships, due to rising debt. Her government's decision of shutting village schools to pool resources at one place did not go down well with the people," says Jaipur-based senior journalist Manish Godha.
Problematic slate
Officials in the state say the government is still working on getting its finances right, two years after it was sworn in. It is said that of every Rs 100 earned by the state, Rs 95 is used to pay salaries and servicing of loans.
Raje has been conveniently blaming the previous Ashok Gehlot-led Congress government for burgeoning debt and a financial mess. Now on, though the onus will be on her government to not only address these but generate enough money for the plethora of schemes and projects she has announced in the past two years.
"We are a little more comfortable with the finances but even now, I get nightmares. The Congress government had no clear road map of where they were headed. It was poor, pathetic financial management," Raje was quoted in an interview published in a national daily.
The latest figures from the Union finance ministry suggest the state's debt liability is still on the rise. It grew from Rs 1,16,280 crore in 2013 to Rs 1,28,861 crore in 2014 and Rs 1,43,991 crore by the end of March 2015.
Gross state domestic product at constant prices showed unimpressive growth in Raje's first year, well below what was seen during Gehlot's tenure. The data suggests GSDP growth was 6.7 per cent, 14.4 per cent, 8.3 per cent, 6.4 per cent and 4.8 per cent, respectively, in the corresponding years of 2009, 2010, 2011, 2012 and 2013. The plausible reason for decline of growth in 2013 can be attributed to elections in the state, when no major economic or policy decisions are taken.
Raje could also be given the benefit of doubt for her first full financial year (2014), when the GSDP growth figure was 5.75 per cent. However, she needs to find innovative ways to at least match the growth during Gehlot's rule.
"Any new government takes time to settle down. Raje's first year mostly went in reaching out to the 68 million people in the state through programmes like the Sarkar Aapke Dwar (government at your doorstep), fighting elections and formulating new policies," says a senior bureaucrat.
'Government at your doorstep' was a partial success. Six months later, when Business Standard travelled to one of the divisions where Raje had camped with the entire Cabinet and senior officers, most people cited inaction of the state authorities on complaints.
A Cabinet minister says since the government's coffers were empty, it was decided to walk the public-private partnership route and invite fresh investment in the second year. PPP, on an experimental basis, has been invited in health, education, power, road, public transport and tourism sectors.
With vociferous protest from a large chunk of voters, comprising government employees, students and non-government organisations, it needs to ensure state resources are not exploited and PPP benefits are felt by all the stakeholders.
On the investment side, the government initiated and implemented many reforms in investment and in labour rules, in the run-up to the 'Rajasthan Resurgent' meet. Last year, it signed memoranda of understanding worth Rs 3.3 lakh crore. Now, it has to get these converted into a reality at the earliest, learning from past mistakes.
In 2007, during Raje's first term, investment proposals amounting to Rs 1,62,607 crore across 357 projects were signed. However, till date, only investments worth Rs 39,000 crore have been materialised or are in the process of taking shape.
Raje's claims of providing 6,00,000 jobs in her current regime should also be seen with suspicion. Data from the department of industrial policy and promotion shows the number of investment proposals and proposed amounts is on a decline since 2012.
Though the 'Rajasthan Resurgent' meet would help in boosting the confidence of investors, the state must act expeditiously, with other states holding similar events and are coming out with attractive polices.
Party relations
For this, Raje needs the blessing of her political masters in Delhi. The absence of Prime Minister Narendra Modi at 'Rajasthan Resurgent' raised eyebrows about her relations with the central leadership. Never close to Modi or party president Amit Shah, the Lalit Modi (cricket financing) controversy also alienated Raje form the party top brass.
At the state level, many seniors are not pleased with her style of functioning. Five-time BJP legislator Ghanshyam Tiwari attacked the Land Bill, embarrassing Raje in the state assembly.
Tiwari, along with incumbent home minister Gulab Chand Kataria and seniors like Ramdas Agarwal, had openly opposed Raje's candidature for chief-ministership before the 2013 assembly elections. In the new dispensation, Tiwari didn't find a place and Kataria was given a portfolio after Rashtriya Swayamsevak Sangh's intervention. Later, Raje had to elevate Kataria to home minister to quell discontent in the party against her.
It is rumoured that many legislators had complained to the central leadership of not involving them in decision making. They believe she runs the government on the recommendation of the state advisory council, comprising mostly industrialists and non-resident Rajasthanis.
She has, however, ensured staunch supporter Ashok Parnami got re-elected as state party president, despite opposition from many seniors.
Now, since she is mending her ways with the party's central leadership, the foremost thing she should do is to accord some importance to her ministers and legislators, who act as her brand ambassadors in the state.
---
Major initiatives of the Rajasthan government

Social and outreach programmes
1) Sarkar Aapke Dwar: 3,00,000 applications disposed of in the continuous public outreach programme.
2) Revenue Lok Adalaat: 2.14 million pending cases disposed of.
3) Bhamashah health insurance scheme: Being launched to benefit 10 million families. Rs 30,000 to 3,00,000 cashless in-patient treatment facility.
4) Bhamashah Yojana: Over 10 mn women empowered a 'head of the family'; 340 million residents enrolled.
5) Swachh Bharat, Swachh Rajasthan: 2.22 million toilets constructed, 1,128 gram panchayats are now 'open defection-free'.
6) Rajasthan Sampark: Relief to 2,28,000 people; it has been developed as a grievance redressal platform.
7) Transformation of public distribution system: About 150 products available at fair price in villages through 5,000 centres.
8) Annapurna Stores: Ration distribution through biometric identification.