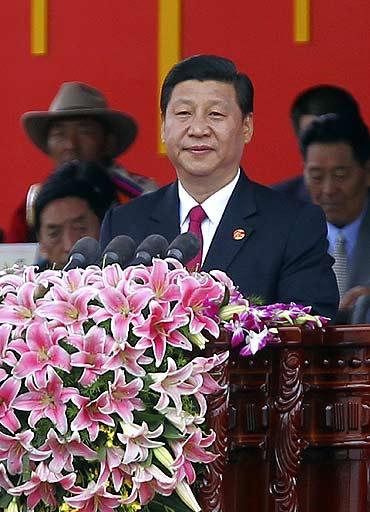 China on Monday said Xi Jinping will visit Pakistan this year amid speculation that the president may be the chief guest at the March 23 National Day military parade in Islamabad.
While no date was given for Xi's visit to Pakistan, the Chinese Foreign Ministry spokesperson Hua Chunying announced at a media briefing in Beijing today that Foreign Minister Wang Yi will head to Islamabad on February 12.
Wang will visit Pakistan, United Arab Emirates and Iran from February 12 to 16, Hua said.
Pak's answer to Obama @ R-day: China's Xi at its military parade?
The foreign minister's visit to Islamabad is at the invitation of Pakistan's Foreign Affairs Advisor Sartaz Aziz, she said.
Asked whether Wang's tour was a prelude to Xi's visit speculated to be around March 23 to attend Pakistan's National Day military parade, Hua said: "President Xi will visit Pakistan this year and (the) two sides are in close communication on relevant issue."
She said the relations between the two countries are developing in a steady manner.
"Leaders of our two countries maintain frequent exchanges. The exchanges of the leaders are of great significance in terms of leading the development of bilateral relationship," she said.
Pakistani media earlier reported that Xi will attend the parade, being held after a gap of seven years.
The reports came in the backdrop of US President Barack Obama's participation in January 26 Republic Day parade during his unprecedented second visit to India.
Xi's visit to Pakistan is due since he cancelled his scheduled tour to Islamabad last September due to security concerns in the midst of political protests held by cricketer- turned-politician Imran Khan-led Pakistan Tehreek-E-Insaf party.
It was the first time that a Chinese leader put off a visit to Pakistan, especially while visiting India.
The Chinese president, however, went ahead with his visit to Maldives, Sri Lanka and India.
Significantly, the reports of Xi's visit on March 23 followed the last month Beijing visit of Pakistan Army Chief Gen Raheel Sharif.
Sharif's trip coincided with Obama's visit to India that raised concerns in China as well as Pakistan over Washington moving closer to New Delhi.