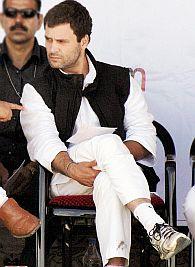 Union Home Ministry's investigations have revealed that Congress vice president Rahul Gandhi's claim that Pakistan's espionage agency Inter Services Intelligence was in touch with victims of the Muzaffarnagar riots in Uttar Pradesh, is incorrect.
The investigation report, submitted to Minister of State for Home R P N Singh, points out that after the Muzzafarnagar riots no such alert was issued by either the local or central intelligence units.
While the home ministry ended its probe with a line stating that there was no such alert, the fact is that Rahul did get this information from somewhere.
At a rally in Indore on October 24, Gandhi had said that he had been briefed by an intelligence officer regarding developments in Muzzafarnagar.

When he was pulled up by the Election Commission for the statement, he replied that he had no intention of communalising the issue and he had just spoken based on the information that he got.
It was the Rajasthan police who had more details on this issue. They told rediff.com that this information generated from a local Intelligence Bureau official.
The unidentified IB officer, the Rajasthan police claimed, was a month away from retirement and was nurturing political ambitions. The information was passed on based on past instances where the ISI had indeed tried getting in touch with riot victims.

However, there was nothing to this effect in Muzzafarnagar.