Despite being cleared in the lower house, the GST bill has been pending in the Rajya Sabha for clearance, where the Congress enjoys numerical strength, reports Kavita Chowdhury.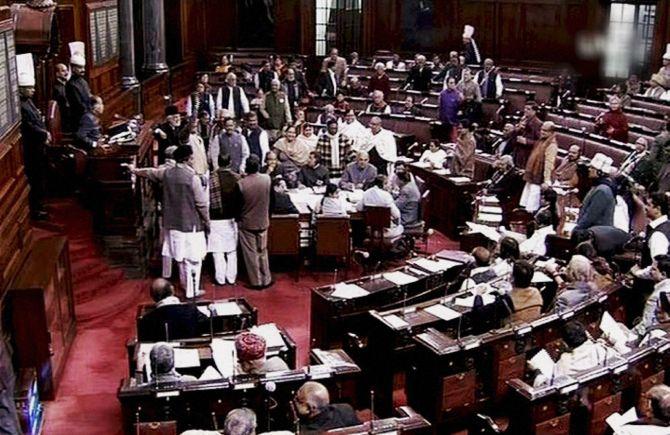 The Congress party has reiterated its earlier stand on the bill for a national goods and services tax -- that it is for the concept but the particulars would have to be on the lines it has demanded all this while, with no compromise on its side.
It has said so even as Finance Minister Arun Jaitley is exuding confidence that the legislation would be voted through in the second half of the Parliament session, which begins on Monday.
Says Randeep Surjewala, the Congress's communications head, "Jaitleyji must be having some magic formula to manufacture votes."
The Bharatiya Janata Party-led government is well short of the needed numbers in the Rajya Sabha, where the bill is pending. The Lok Sabha has passed the measure.
Surjewala added that Jaitley's confidence could stem from the BJP's alleged friendship with the Trinamool Congress. "He must be banking on the TMC support. Remember, it was Mamata Banerjee (the TMC chief and Bengal chief minister) who helped the government pass the mines and minerals bill."
On Tuesday, too, Surjewala, while addressing the press in West Bengal, had said, "Political opportunism defines the tacit understanding between the Trinamool and the BJP."
The Congress on Wednesday rejected government claims that it had reached out to the former on GST. Asserting their "conditions" were in the best interest of the public, Surjewala said people were already reeling under the burden of a 15 per cent service tax. Therefore, the Congress wanted a cap of 18 per cent on the GST rate, to be specified in the bill. Also, provision for a one per cent additional tax to be done away with, something which the government's own chief economic advisor was also for. And, it wanted a neutral dispute redressal authority.
"We are ready to pass the GST in this session, provided our conditions are met," said Surjewala, adding: "Jaitley is falsely naming the Congress as opposing the GST. In fact, it is the Rashtriya Swayamsevak Sangh which has red-flagged the GST."
The government is keen to have the constitutional amendment on the GST cleared quickly; the Congress is the main block.