India is reeling under intense heatwave. As of Sunday, heat-related death toll in Andhra Pradesh and Telangana stood at 290.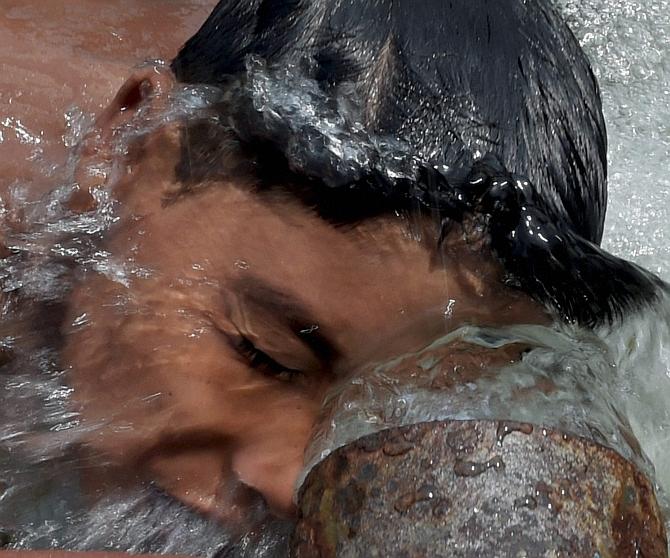 Image: A boy enjoying the splash of water on his face on a hot day. Photograph: PTI Photo
The searing heat wave has swept most places in west Rajasthan, west Madhya Pradesh, Vidarbha and Telangana, as well as parts of Odisha, coastal Andhra Pradesh and isolated places in Uttar Pradesh, east Madhya Pradesh, Chattisgarh, Marathwada and north interior Karnataka. State governments have already issued guidelines urging people to take appropriate precautions before heading outside. Homeless and labourers are the most affected as they reported maximum number of fatalities.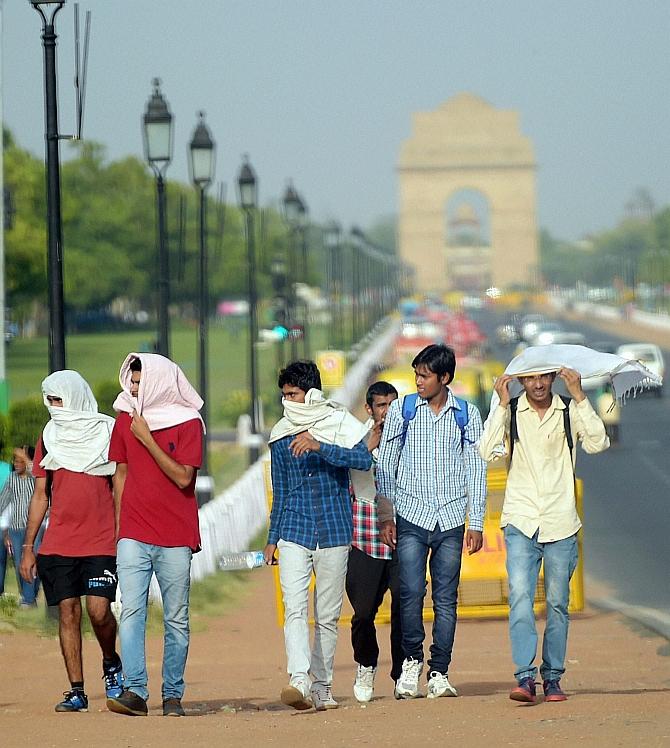 Image: Boys covering their faces on a hot day near India Gate in New Delhi on Saturday. Photograph: Manvender Vashist/PTI Photo
Latest weather readings suggest that the heat wave accompanied by 'loo' will continue to wreak havoc in the country for next four to five days. They said the situation should improve with the approaching monsoon rains, which usually reach the southeastern coast in the first week of June.
Health authorities have asked people not to go outside at midday to avoid getting sunstroke due to high temperatures and blistering winds.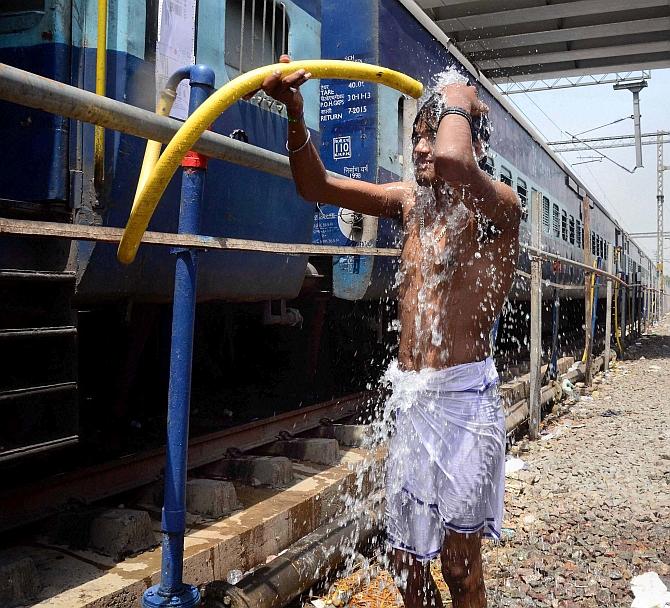 Image: A man takes bath under a train water supplying pipe at a railway station in Allahabad. Photograph: PTI Photo
Here are some important Do's and Don'ts to follow during a heatwave so as to avoid sunstrokes (Courtesy: National Disaster management Authority):
WHAT YOU SHOULD DO:
Recognise the signs of heat stroke, heat rash or heat cramps such as weakness, dizziness, headache, nausea, sweating and seizures.


Drink water and oral hydration drinks


Rest in shade, take breaks if you must work in the sun


Place a cool, wet cloth on your head to cool off


Check on neighbours and elderly family to ensure they are keeping cool


Wear light and loose clothes


Use an umbrella or hat or cover head with a cloth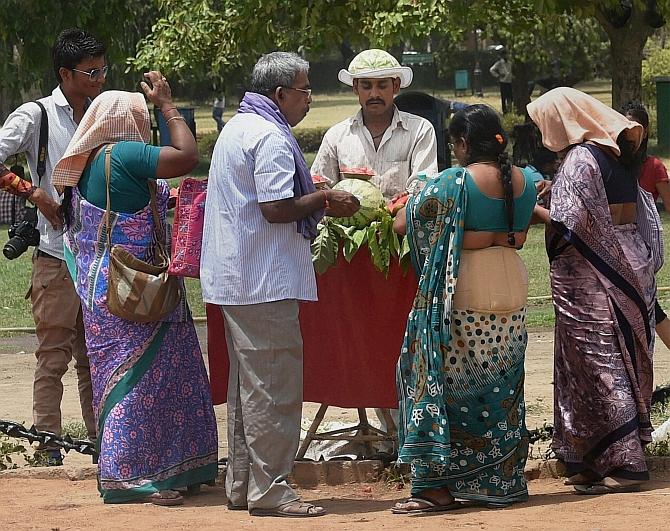 Image: Tourists eat watermelons on hot day near India Gate in New Delhi on Sunday. Photograph: Kamal Singh/PTI Photo
WHAT YOU SHOULD NOT DO:
Do not go out in the direct sun.


Avoid extensive physical activity.


Do not send children or pets out in the sun or leave them in closed vehicles.


Do not consume caffeinated drinks (like aerated drinks) and alcohol during extreme heat.


Avoid wearing dark, heavy or tight clothing.


Avoid cooking during peak heat hours. If you must cook, open doors and windows to ventilate the cooking area adequately.