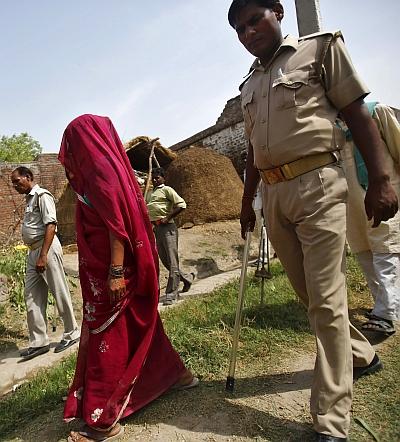 Three minor Dalit girls were allegedly assaulted and gang-raped by seven men for opposing eve-teasing in Singauli village in Badaun, police said on Tuesday.
Three youths of a neighbouring village indulged in eve-teasing with the girls on Sunday who had gone to a nearby field.
As the girls raised objection, four other associates of the accused also joined them in beating the girls.
One of the girl's brother, who rushed to their rescue, was also beaten up, police said.
A first information report has been lodged under Zarifnagar police station area against the seven accused under sections of eve-teasing, assault and SC/ST act. However, the girls have alleged that they were gang-raped.
The family members of the girls however met the Senior Superintedent of Police L R Kumar on Monday, and alleged that the police was saving the accused.
They complained that the station in-charge lodged the case of assault and not of gang rape at the behest of a Samajwadi Party leader to save the accused, who belong to Yadav caste.
The SSP later told reporters that prima facie the case appeared to be that of eve-teasing, but as the family members have complained against it, the statements of the girls will be recorded in the court and further action would be taken accordingly.
Three of the accused have been arrested and efforts are on to nab the remaining accused, police said.

In May, two cousin sisters from Badaun were allegedly raped, killed and their bodies found hanging from a tree causing nationwide outrage.

Image: The mother of one of the two teenage girls, who were raped and hanged from a tree, walks along with policemen at Badaun. Photograph: Anindito Mukherjee/Reuters