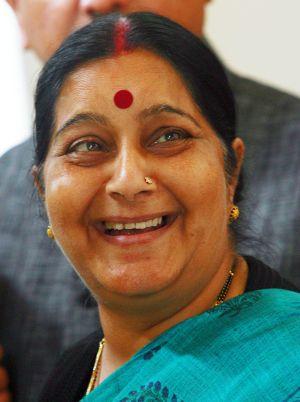 External Affairs Minister Sushma Swaraj formally inaugurated Nalanda University in Bihar on Friday. Inaugurating the university, Swaraj called it a historic occasion for her as well as the country.
"It is a matter of pride for me to inaugurate the academic session of the university after a gap of over 800 years," she said.
She also planted saplings on the sprawling premises during her visit to the site,where the university will come up in Rajgir, 12 km from where the ancient Nalanda University stood till the 12th century.
Ambassadors of two countries and diplomatic representatives of 16 countries also attended the inauguration of the university, said the Gopa Sabharwal, the vice chancellor of the university.
Economist and Padma Bhushan awardee Lord Meghnad Desai and Bihar's Chief Minister Jitan Ram Manjhi were also present at the function. However, former Bihar CM Nitish Kumar, who played a substantial role in setting up the university, was absent at the function.
The classes at the revived NalandaUniversity started on September 1 after a year break of over 800 years with 15 students and six faculty members.
Sabhrawal said the academic session for the school of historical sciences and the school of environment and ecology have started for the first session 2014-15 in the international convention centre at the Buddhist pilgrim town of Rajgir, about 100 km from here.
She said that till now 15 students have been enrolled in the university and more will enrol in the coming days, as the process of applications and interviews are still on.

The fully-residential university, to be completed by 2020, will eventually have seven schools, all for post-graduate and doctoral students, offering courses in science, philosophy and spirituality, and social sciences.