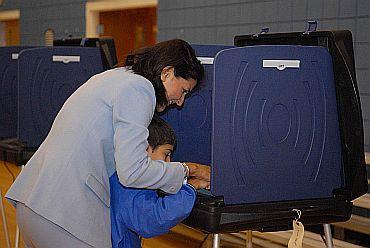 Just as polling is underway in south Carolina for state and Congressional elections, Republican candidate for governor Nikki Haley came with her family: husband Michael, children, Rena and Nalin, to the polling station at Mount Horeb Methodist Church, in Lexington. It is also the church that the family goes for worship.
Once completed the formalities at the desk, she moved with Nalin to the booth to vote accompanied by several reporters and TV camera crew. She showed Nalin how she was voting. Michael voted at the next booth accompanied by Rena.
A beaming Haley greeted the media with confidence. Asked about her feelings for the day and expectations for the night, when the results come, she said she is excited. Every vote counts and she is keenly following the voting till it ends at 7 pm in the evening, she said.
"It was all hectic. But now I feel relieved. The day is for the family. It is a day for hugs and talks," she said.
Though there was no long queue seen at the station, people kept on coming for voting. Lexington County is the home turf of Haley family and a stronghold of the Republicans. 
Local pride is a factor and everyone expects Haley to take Lexington with huge margin, while his opponent sate Senator Vincent Sheheen (Democrat) is to carry Camden County, his native place.
Reports indicated heavier -than-normal turnout in the mid-term election after it generated much heat and dust during the campaign, thanks to Haley's presence and views on many subjects.
The election day party for Haley is scheduled for the evening at the Columbia Convention Center and many Indians said they plan to join it. Most of the people believe the victory margin may be less, but nobody has doubts about the chances of Haley.
If she wins, she will be the first woman to become governor of the state breaking the age-old tradition or chauvinism.
Image: Nikki Haley casts her vote with her son Nalin
Photograph: Paresh Gandhi