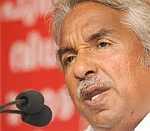 Terming Italy's decision not to send back its two marines as a "diplomatic tragedy," Kerala Chief Minister Oommen Chandy on Wednesday said it is the responsibility of the Centre to bring them back to India.
Chandy said there can be "no compromise" on the issue and the marines will have to face trial in India in the fishermen killing case.
"How can a country use its diplomatic status to cheat the apex court of another nation? If Italy fails to fulfill its word, it will be a diplomatic tragedy," Chandy told reporters.
Chandy, who met Prime Minister Manmohan Singh in his Parliament House office, said, "The announcement of the Italian government is not at all acceptable. They have to be tried under Indian laws. They have to be present before Indian courts."
The Kerala CM said he has requested the prime minister to take all possible steps to ensure the return of the two marines. "I hope Italy will come around and obey Indian laws," he said.
When asked whether the Supreme Court has "erred" in allowing them to go to Italy to cast their votes, Chandy said, "I am not going to find any fault. What next is the specific agenda? They will have to face the trial here."
The Kerala CM also questioned the issue of diplomatic immunity with regard to a pending criminal trial.
Asked if it was the Centre's responsibility to bring marines back to India, Chandy shot back, "What is the doubt in it?"
The two marines -- Massimiliano Lattore and Salvatore Girone -- have been charged with homicide for killing two fishermen off the Kerala coast in February last year.
The two were allowed by the apex court on February 22 to travel to Italy for four weeks under the control and custody of the ambassador of Italy in India, to cast their ballot in the elections scheduled for February 24 and 25.
The court had said that the marines are only allowed to travel to Italy and remain there and will have to return to India.