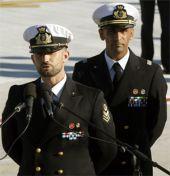 Apprehending backlash after it refused to send back two marines, facing trial here for killing two Indian fishermen in Kerala, Italy has advised its citizens to be "vigilant and cautious", especially in that state.
In an advisory, issued two days after it formally told India about its decision not to send back the two marines facing homicide charges, Italy also asked its nationals to stay away from any crowd.
"In connection with any protests, especially in the state of Kerala, related to each of the two sailors, it is recommended to compatriots in maintaining an attitude always vigilant and cautious and stay away from any crowds," the Italian embassy advisory said.
Clearly not happy with Italians reneging on their commitment to send back its two marines, who were allowed by the Supreme Court on February 22 to go to Italy for four weeks for voting in election, the apex court has restrained Italian Ambassador Daniele Mancini from leaving Indian without its permission. Mancini had given an assurance to send them back before the end of their four week deadline.
A bench headed by Chief Justice Altamas Kabir had also issued notice to the ambassador and two marines, Massimiliano Lattore and Salvatore Girone, to respond by Monday after Attorney General G E Vahanvati brought the issue before it, saying that "it's a breach of undertaking given to the highest court of the land and the government is extremely concerned about it".
Meanwhile, India is in the process of downgrading its diplomatic ties and decided not to post the ambassador designate to Rome who was to assume the charge by next week.