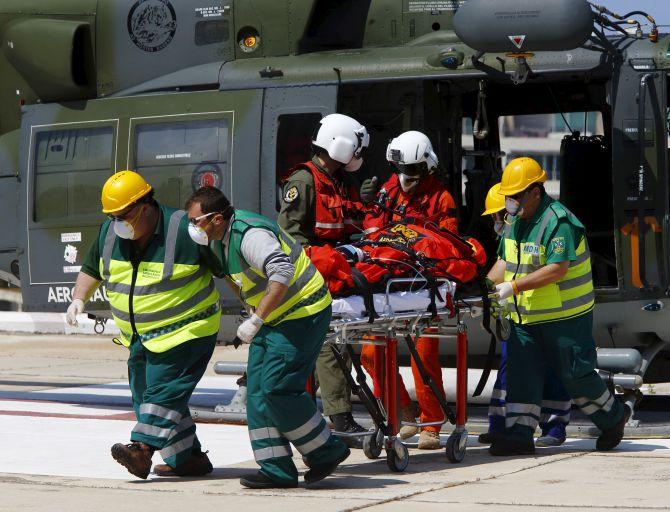 Paramedics wheel an ill migrant, believed to be Somali, who was rescued by a merchant vessel and flown to Malta as part of the ongoing search and rescue operations taking place in the southern Mediterranean. Image: Darrin Zammit Lupi/ Reuters
Nearly 400 migrants died in an attempt to reach Italy from Libya when their boat capsized, survivors said on Tuesday.
The Italian coastguard on Monday said they had managed to rescue nearly 144 of the people on the sunken vessel and had recovered nine bodies.
The International Organisation for Migration and the NGO Save the Children said between 144 and 150 survivors arrived at Italy's southern tip, on Tuesday morning.
According to a Reuters report, the boat, carrying about 550 migrants in total, flipped about 24 hours after leaving the Libyan coast, according to some of the survivors who were rescued and brought to a southern Italian port on Tuesday morning.
"There were 400 victims in this shipwreck, which occurred 24 hours after their vessel left the Libyan coast," Save the Children said in a statement.
The survivors of the latest shipwreck were mostly sub-Saharan Africans but no further details were available.
While it was not clear exactly when the boat had capsized, initial investigations indicate the boat may have capsized after passengers started moving when they saw the Italian rescue team.
An increasingly violent and chaotic situation in Libya has helped hike up the number of migrants trying to seek asylum in Europe.