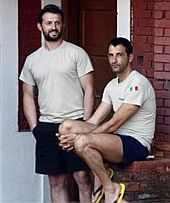 Confusion prevails over the laws under which the Italian marine duo, accused of killing two Kerala fishermen, are to be prosecuted amid indications that the high-profile case may be handed over to the Central Bureau of Investigation from the National Investigation Agency.
Government sources said as per the assurance given by India to Italy, the marines will not be given death sentence and hence the stringent Suppression of Unlawful Acts Against Safety of Maritime Navigation and Fixed Platforms on Continental Shelf Act, 2002 slapped against the duo will be dropped. Under this Act, offence of murder is punishable only with death sentence.
However, if Massimiliano Lattore and Salvatore Girone are not prosecuted under this law, the NIA, which has been assigned to investigate the case, cannot probe it as the agency is mandated to investigate only scheduled offences.
Therefore, sources said, if the stringent law is dropped, the NIA will have to give away the case and the case has to be handed over to another federal investigating agency -- most probably the CBI -- for prosecuting the duo under the Indian Penal Code and CrPC.
Sources said no decision has been taken on it yet as both Home Minister Sushilkumar Shinde and Home Secretary R K Singh are away in Russia on a bilateral visit.
A decision on the issue is expected only after April 16 when the Centre will give its submission on the case before the Supreme Court.
On March 22, after the return of the marines from Italy, External Affairs Minister Salman Khurshid had told Parliament that India has given an assurance to that country that the two will not face death penalty nor will they be liable for arrest if they return by the deadline set by the Supreme Court.