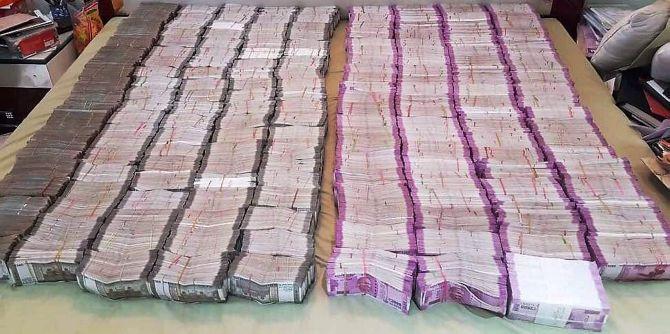 The income tax department on Thursday seized over Rs 10 crore in cash and about 10 kg of gold after it conducted searches at the Noida residence of a senior Uttar Pradesh bureaucrat, an official said.
In a second action, the tax sleuths searched at least four premises of a former officer on special duty of Noida Authority Y P Tyagi in Noida near New Delhi as part of its crackdown against government servants on charges of alleged tax evasion, the official, who requested anonymity, said.
The official said the I-T teams, in the first search that began early morning, seized over Rs 10 crore in cash and 10 kg of gold from the Noida residence of Additional Commissioner of state Sales Tax department identified as Keshav Lal.
The officer is posted in Kanpur at present, the official said.
In the second search at Noida, the department recovered some documents and is searching various premises and bank lockers associated with Tyagi and his son.
The official said the department is probing Tyagi's alleged investment in an international university in Noida and a luxury hotel each in Goa and Haridwar.
The department has launched multiple raid operations against bureaucrats and government servants few days back and has detected undisclosed income worth over Rs 30 crore till now.
It has conducted searches against four bureaucrats based in Uttar Pradesh and Uttarakhand over the last three days.
Official sources had said raids were carried out in the last two days against four government functionaries in these states including against a general manager of the Uttar Pradesh Rajkiya Nirman Nigam Ltd in Dehradun for alleged 'misuse of official position' and subsequent charges of tax evasion.
"Documents showing undisclosed investments in farm houses spread over hundreds of bighas and immovable properties in other cities have been seized," they had said.
The tax sleuths have also made an inventory of some costly assets and posh vehicles like Range Rover, an Audi and a BMW car from the premises of the UPRNN official and his family.
They said the I-T teams were surprised to find 15 large LED television sets fitted in the farm house which was constructed on a land earmarked to set up a factory. A well-equipped gym, a guest house and an under-construction swimming pool were found on the premises.
"The department is probing tax evasion to the tune of a few crores against the official and his associates based in Rishikesh," they had claimed.
In another search operation against a local body chairman in UP's Siddharthnagar district on Wednesday, the department detected alleged tax evasion to the 'tune of Rs 10 crore as per preliminary estimates'.
"The chairman owns two petrol pumps and a gas agency and has been found to be allegedly diverting development grants for personal benefits," the official said.
The department also raided the premises of a senior official in Noida and that of a UP road transport department officer based in Kanpur.
"The Noida officer was found to have made unaccounted cash payments for purchase of immovable properties worth more than Rs 2 crore in the name of his spouse," the official said, adding he will soon be issued summons to join investigation.
A sum of Rs 98 lakh in cash has been seized from the premises of the woman officer of the RTO department, the official added.
The department, the official indicated, could undertake similar action against few more bureaucrats who are on its radar for quite sometime now.
Over Rs 540 crore of black money has been detected by the department in the last 15 days as part of its nation-wide operations to check tax evasion. These actions come after the closure of the Pradhan Mantri Garib Kalyan Yojna black money window on March 31.
In the first fortnight of the new financial year that began on April 1, the taxman has conducted multiple search and survey operations on entry operators (agents using banking channels to launder funds), shell firms, government officials, real estate players and other sectors.
As per an official data compiled till April 15, the department has carried out 'over 250 searches and survey operations where the taxman raided at least 300 shell firms and detected more than Rs 540 crore of black money'.
IMAGE: Cash in new currency notes recovered after raid at the residence of an Uttar Pradesh Additional Commissioner of Sales Tax in Noida on Thursday. Photograph: PTI Photo