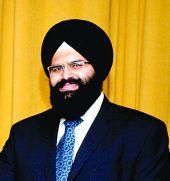 Manmeet S Bhullar, 32, is the youngest sitting minister in the Alberta legislature in Canada. Ever since he was elected in 2008, he has been a relentless advocate for his constituents.

He talks to rediff.com's Ajit Jain
What is your job as minister for government services?
The entire government information system is under my control, including our registry systems, vital statistics, etc.

This includes a whole spectrum of activities -- everything from registering vehicles to registering births, marriage and deaths. Vital statistics would include providing official data directly to the public.
My department is also responsible for procurements to payroll, to information technology. We run the government call centres for the public giving them information about our services, helping them apply for our services. So, you have to realize how vast these could be.


There's also an associate ministry that reports to me. That's an area where we are bringing forward some different pieces of legislation.


How do you bring about transparency in your department?


One of the most exciting achievements in Alberta has been the creation of a transparent expense policy. Our entire staff, including ministers, their offices, political staff and bureaucrats, are all subject to this policy of posting online all their expenses every two months.


I believe it is a very unique system: While expenses are required to be posted online, these have to be individualised expenses and with receipts. No province or federal government has done this. To me posting individual receipts is very significant.


It is applicable to all government boards and commissions. If they don't follow our lead, we will take further action.


As part of your consumer protection policy you also take care of cell phone service providers?


I was not comfortable with the way our cell phone companies deal with roaming charges, especially data roaming. So, when I was named minister for government services, I said to myself I am going to change all these data roaming charges.


I confronted issues with the companies. They said 'look we are federally incorporated entities. You can't touch us.' And I said 'Watch me' and we moved forward.


Why should there be different structures, different regulatory regimes, and different price schemes in every province?


I became the first provincial minister to approach the federal government and the Canadian Radio-Television and Telecommunications Commission and told them that they needed to take action on this on a national level by creating a national code for cell phone companies to regulate charges for data roaming.


The CRTC has accepted my proposals and they have initiated a hearing on this.

A provincial minister can use his position to influence change not just in his province but across the country.


How do you tackle immigration consultants and employment agencies, which exploit new immigrants?


I have changed regulations to crack down on employment agencies that are often closely connected to immigration consultants that were essentially ripping people off.


I changed the rules so that it's easier to get prosecution against these people and agencies that exploit new immigrants.


What we have found is immigration consultants charge money from people even before they actually migrate to Canada. I am now telling them firmly that it's illegal.


I have strengthened the rules to say you have to have the actual terms and conditions of employment laid down clearly and you have to provide that in writing to individuals.


We have also made it mandatory that those involved in international recruiting have to post a surety bond with the government to that effect. If we have victims, we as a government cash those surety bonds to provide redress to such victims.  

Do you interact closely with immigrants?


It is very important for all our groups from various communities to feel supported when they come to Canada. From the day I was first elected, I fought very hard to get government funding for different cultural groups.


I have been able to get government funding for a number of senior groups for them to build their own facilities and get them operational funding as well in some areas.


It is important to ensure people have a sense of belonging. The Bangladesh community in Calgary has their own community centre, the first such centre outside their own country.
What about accreditation of foreign-qualified professionals?
I won't shy away from the fact that this issue is very significant and it requires continuous improvement.

There's absolutely no question about that as talent is being under-utilised or not utilised in many cases.


In Alberta, we have foreign medical graduate programmes. Once people get through their academic upgrading, we have residency seats set aside for them.

Because of the nature of our provincial economy, we have succeeded in moving forward quicker on this than other provinces.


Alberta is now a destination for immigrants because the way our economy is growing. You recently spoke at the Canada-India Foundation's food and agriculture forum in Vancouver. Your thoughts on food security?
I can't comment very much on food security as that's not my portfolio, but I was part of the Alberta government delegation that went to India in December last year.

We signed a memorandum of understanding with Punjab relating to agriculture and education.
We were told by many Indian officials that they have significant issues -- with the transportation and storage of food and fruits -- when it comes to food security.

We can help a great deal in this field as we have a lot of expertise. Our government is constantly looking at ways to strengthen our relationship with India