The ISRO is looking at Mangalyaan-2, a follow-on mission to Mars, and launching two satellites that would look at Venus and explore asteroids.
T E Narasimhan and Raghu Krishnan report.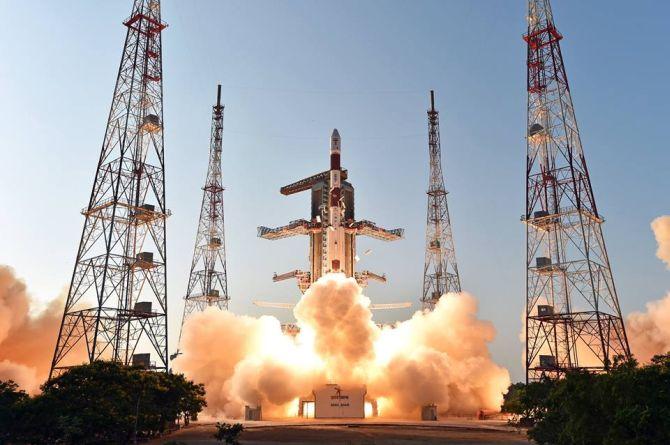 India is planning to launch a return mission to Mars and a spacecraft to study asteroids, Venus and the sun, as it looks to build a body of scientific data to encourage more people to take up research.
So far, Indian Space Research Organisation has launched missions with Chandrayaan-1 for moon and Mangalyaan-1 for Mars, besides an observatory in space with Astrosat.
In March, it is returning to the moon with a lander and a rover that would explore the earth's satellite for water and helium.
Subsequently, it will launch Aditya, a satellite that will carry instruments to understand the sun better.
Besides, the ISRO is looking at Mangalyaan-2, a follow-on mission to Mars, and launching two satellites that would look at Venus and explore asteroids.
The success of Astrosat-1 has also prompted the space agency to launch another telescope in the skies with a follow-on mission. The ISRO has called on scientists to participate in these missions.
"There is interest for more such exploration. We are preparing mission profiles based on the feedback from the scientific community," said A S Kiran Kumar, chairman, ISRO.
Besides the ISRO going on its own, there is an enormous interest in joint collaboration from other countries to explore deep space.
Last week, the ISRO and Japan Aerospace Exploration Agency (JAXA) announced they would send a joint mission to the moon that includes landing a rover and bringing samples back to earth.
The mission will be the first to attempt to bring samples of the moon back to the earth after four decades.
The ISRO has emerged as the front runner for global space agencies to collaborate to understand earth better.
It has built a South Asian satellite that provides connectivity to neighbouring countries in the region.
The French space agency, CNES, and the ISRO have jointly built and launched two satellites -- Saral and Megha Trophiques -- to study oceans and how climate change is impacting the onset of monsoon.
CNES has provided the cameras that are used for the lunar rover of Team Indus, the Indian private start-up that is looking to go to the moon next year.
ISRO and the National Aeronautics and Space Administration are jointly building an imaging satellite that will look at natural resources mapping and monitoring, and estimating agricultural biomass over full duration of crop cycle.
The Chandrayaan-1 mission carried two sensors of NASA, including the moon mineralogy mapper that helped discover traces of water on the moon's surface.
The European space agency had three instruments on the spacecraft.
"There are always efforts to jointly collaborate among space agencies. The challenges are enormous and with limited resources, the only way is to cooperate with each other," said Kumar.
Image for representation only.