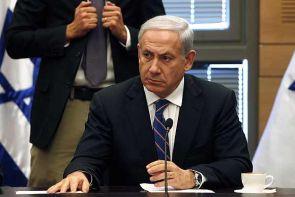 Israeli foreign minister Avigdor Lieberman today snapped a 20-month political alliance with Prime Minister Benjamin Natanyahu, the first fallout of a simmering discontent over the fractious ruling coalition's response to frequent attacks by Palestinian Hamas militants.
The split leaves Netanyahu's ruling Likud party fragile though it remains the single largest party with only a seat more than the second largest faction.
"Disagreements between the Prime Minister and me are fundamental and do not allow for a future partnership," the ultra-nationalist leader told reporters.
Lieberman said he intends to return to operating as an independent faction as before the two parties' pact ahead of the 2013 general elections.
The announcement follows a bitter dispute between Lieberman and Netanyahu over the government's handling of intensifying rocket fire by Palestinian Hamas militants in the Gaza Strip.
"The partnership did not work during the elections, it did not work after the elections and to this day there were quite a few technical issues. When technical issues turn to fundamental ones there is no point in continuing," he said.
"I am not attacking the prime minister -- he has the right to his views. I see matters differently and I don't hide it," Lieberman said.
The ultra-nationalist leader, whose Yisrael Beitenu party favours a tough line towards the Gaza-based Islamist group, said the governing coalition will continue and that he does not seek an early election.
Lieberman said the split does not stem from political considerations, but rather from differing opinions in the field of security and defence.
Netanyahu had attacked Lieberman during a cabinet meet on Sunday after the latter had slammed the Premier's tepid response to the rocket fire from Gaza.
"The central objective of the government is to stop the firing on the communities in the South, but the argument over the way to do this should not seep out of the cabinet," Netanyahu had said.
Apparently referring to Liberman and Economy Minister Naftali Bennett, the prime minister had said certain ministers were showing a lack of responsibility, sowing frustration and a lack of confidence in the security establishment.
"There is no need to engage in populism," Netanyahu said and added "there are ministers who are taking advantage of the situation to attack me and the government. This is irresponsible and damaging."
The otherwise hawkish Israeli prime minister has been calling for restraint after tensions rose following the killing of three Israeli teenagers in West Bank, evoking fierce criticism from his coalition partners.