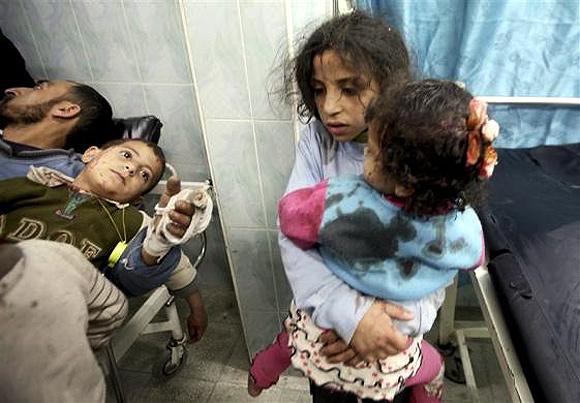 Israeli jets on Tuesday pounded 50 Hamas targets on the Gaza Strip injuring at least 17 Palestinians as part of a military offensive code-named 'Protective Edge' after a barrage of rockets hit southern Israel amid escalating tensions in the region.
Israel Defence Forces confirmed the launch of air operation aimed at halting the rocket fire. "The IDF has commenced Operation Protective Edge in Gaza against Hamas, in order to stop the terror Israel's citizens face on a daily basis," said the IDF Spokesman's office in a tweet posted after 1 am.
The announcement came following a three hour security meet of the cabinet on Monday, as tensions continue to rise over the killing of three Israeli teens and an Arab youth in a revenge attack.
Seventeen people were injured, including seven children and two women. Two of the injured are critical, Palestinian medics said. On Monday, Foreign minister Avigdor Lieberman also snapped a 20-month-old alliance with the ruling Likud Party over the fractious coalition's response to frequent attacks by Hamas.
During the overnight strikes, the IDF hit 18 underground rocket launchers, dozens of homes belonging to Hamas members, three Hamas command and control facilities, and then targets described by security sources as 'infrastructure.'
Most of the air strikes targeted Hamas, though some targeted other Palestinian militant groups as well that have been involved in recent projectile fire on Israel. More than 30 rockets hit Israel's southern areas in a span of 30 minutes on Monday and more than 70 were reportedly fired throughout the day.
One Israeli was injured by shrapnel in Ashdod as Hamas launched a heavy barrage of rockets coinciding with the funeral procession for the six Hamas members killed in a tunnel explosion Sunday night.
Nine Palestinian militants, seven from Hamas, have been killed in Israeli air operation in Gaza so far. Hamas claimed responsibility for the heavy rocket fire, as Code Red sirens blared across the south, in towns and cities including Ashkelon, Kiryat Malachi, Ashdod, Netivot, and Be'er Sheva.
The Iron Dome anti-missile defence system shot down a total of 12 rockets over Netivot and Ashdod. Israeli Prime Minister Benjamin Netanyahu and senior ministers held a three-hour Security Cabinet meeting on Monday afternoon to discuss the option of an escalation with Gaza, and decided that for the time being Israel will "act carefully, but also steadily increase military retaliation to rockets from the Gaza Strip."
"As tensions grew over the day, a senior military source said that the IDF had called up "some 1,500 reservists who will arrive in waves. Most of them are commanders and part of the home front command."
Heavy rocket barrage led to a suspension of rail service in southern Israel. Residents of towns close to Gaza were warned to stay 15 seconds from bomb shelters at all times.
The Iron Dome anti-missile defence batteries were also deployed in strategic positions throughout Israel. In an indication that the operation may be prolonged, a senior IDF source was quoted in the Jerusalem Post as saying, "We are entering into a long operation," raising speculations that mediation efforts by Egyptians have failed.
"We are only at the start. Patience is required. We are preparing further steps and a gradual expansion of our order of battle," the source added referring to the growing presence of Ground Forces deployed along the Gaza Border.
Meanwhile, Israeli Arabs have continued with their protests across the country with many areas witnessing violent clashes between demonstrators and the Israeli police. Several dozen masked Palestinians threw Molotov cocktails and improvised gas grenades at police forces in Shuafat late Monday night, next to an area in which the family of
Mohammed Abu Khdeir, the 16-year-old Arab teenager kidnapped and murdered by Jewish extremists in a revenge killing, was mourning.
The police fired stun grenades at the masked protesters. No injuries were reported.
Earlier in the night some 50 Palestinians, many of whom were masked, threw rocks next to Tamra, just north of northern city of Haifa. Six were arrested by the police. Dozens of people also rioted and fired fireworks in Beit Safafa and other areas of Jerusalem. Three were arrested. Arab protesters had also rioted overnight on Sunday in East Jerusalem and a number of neighbourhoods in the city after a tense day saw security forces arresting six men for the murder of the Palestinian teen.
Some 15 silent protests also took place in Arab communities across Israel without any incident. The killing caused shock, outrage, and no small measure of shame in Israel. "To take a young boy, to kill him, to burn him -- what for?" asked President Shimon Peres. Both Netanyahu and Peres have spoken to the father of Khdeir and condemned the inhuman killing in efforts to calm down the tempers.
"I am ashamed on behalf of my nation and grieve with you," Peres said, while Netanyahu termed the murder as "abhorrent".