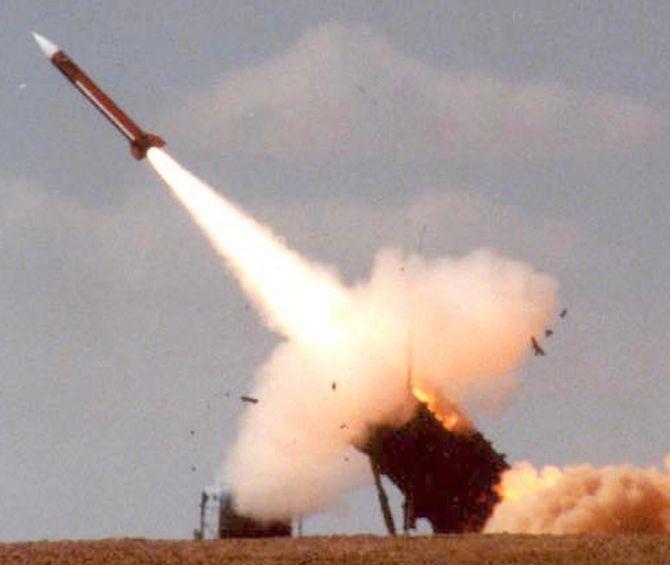 Israel has signed a nearly $2 billion (Rs 13,000 crore) deal with India to supply advanced missile defence systems, bolstering bilateral military ties, under a contract said to be the largest in Israel's defence industries' history.
In a mega-contract worth over $1.6 billion, state-owned Israel Aerospace Industries (IAI) will provide advanced medium-range surface-to-air missile systems (MR-SAM) to the Indian Army.
IAI said it would also supply additional long-range air and missile defence systems (LRSAM) for the first locally produced Indian aircraft carrier, the company said in a statement on Thursday, describing the deal the largest in Israel's defence industries' history.
The deal was approved by the cabinet in February and comes ahead of a possible visit of Prime Minister Narendra Modi to Israel in July this year.
The MR-SAM, a land-based version of the LRSAM, will have a strike range of up to 70 km.
India is Israel's largest buyer of military hardware and the latter has been supplying various weapons systems, missiles and unmanned aerial vehicles over the last few years but the transactions have largely remained behind the curtains.
The contract is worth $1.6 billion for IAI, with the rest going to another state-owned defence company, Rafael, that will be providing components for the systems.
'The current contracts represent an enormous expression of confidence by the government of India in IAI's capabilities and advanced technologies, which are being developed with our local partners as part of the Indian government's 'Make in India' policy,' IAI CEO Joseph Weiss said in a statement.
President Reuven Rivlin, who is said to have discussed the deal with Indian leaders during his trip to India early this year, congratulated Weiss on the 'historic' deal terming it truly 'exceptional'.
"Please pass on my congratulations to all who contributed to this important achievement. You have come such a long way to arrive at this point, it is truly exceptional," Rivlin told IAI's CEO.
Weiss responded calling it a 'truly remarkable achievement' and 'a wonderful gift for the upcoming festival (passover)' to be celebrated next week.
Israel's willingness to share technology and form joint ventures with Indian companies to develop and manufacture military equipment supporting the 'Make in India' initiative is said to have been well received in New Delhi.
In the case of MR-SAM, an advanced air and missile defence system that provides protection against a variety of aerial threats, the technology is said to have been jointly developed by IAI and Defence Research and Development Organisation in collaboration with Rafael and IAI's Elta division.
Indian companies such as BEL and L&T are said to have also participated in the project.
MR-SAM's current version is operational with the Indian Air Force, Indian Navy and Israel Defence Forces.
The system includes an advanced phased-array radar, command and control, mobile launchers and missiles with advanced RF seekers.
Israel pips US as largest arms supplier
Israel is set to overtake the US and become India's largest foreign arms supplier in 2016-17, with lucrative contracts to supply advanced anti-aircraft and anti-missile defence systems to the army and the navy.
On Thursday, Israel Aerospace Industries announced the award of Indian defence contracts totalling "almost $2 billion" (Rs 13,000 crore).

One mega-contract worth over $1.6 billion, which an IAI release termed "the largest defence contract in Israel's defense industries' (sic) history", is for the supply of Medium Range Surface to Air Missiles to the Indian Army.

In addition, IAI says it has been awarded a contract to supply additional Long Range Surface to Air Missiles anti-ship missile defence systems for INS Vikrant, India's first home-built aircraft carrier, which is being constructed in Cochin Shipyard.

The LR-SAM, also called the Barak 8, detects and shoots down incoming anti-ship missiles at ranges out to 70 km. Sea-skimming, hard-to-detect ASMs like the Harpoon and Exocet, which can be launched from aircraft, surface warships or submarines, are one of the greatest hazards a surface warship faces.

The MR-SAM, which uses the same missile as the LR-SAM but a different radar and control systems, detects incoming enemy aircraft while they are well over a hundred kilometre away and destroys them at ranges out to 70 km.

The DRDO said that the Indian Air Force is the lead service for the MR-SAM development project, contributing 90 per cent of the Rs 10,075 crore development cost. However, the Indian Army has also come on board later.

In March 2009, the IAF signed a contract for 18 MR-SAM fire units (each equipped with 24 missiles), which were to be delivered by October 2016. But, with the first test having been conducted only last June, it is estimated that the MR-SAM will enter IAF service only by 2018.

The LR-SAM, in contrast, has already begun equipping the Indian Navy's new Kolkata-class destroyers. In December 2015, INS Kolkata successfully tested two LR-SAM missiles. Now, with INS Vikrant scheduled to be commissioned next year, it will be fitted with the LR-SAM.
-- Ajai Shukla/Business Standard