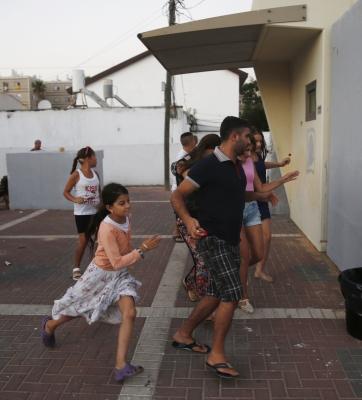 Israel bombed the Gaza Strip for the fourth day on Friday, killing eight Palestinians and tensions heightened after militants fired rockets towards the Jewish state from Lebanon for the first time since the beginning of a confrontation with Hamas.
As death toll since Monday crossed 90, most of them civilians including women and children, United States President Barack Obama offered to broker a ceasefire with Hamas. Reaffirming the US' position that Israel has a right to defend itself and while condemning rocket attacks by Hamas and other Gaza-based militant groups, Obama during a telephonic conversation with Israeli Prime Minister Benjamin Netanyahu said that he is prepared to facilitate a cessation of hostilities, local media reports said.
While it is still unclear as to what Netanyahu told the US President but on Thursday he had ruled out a ceasefire with Hamas in the short-term. On the contrary, the Israeli leader had vowed a series of 'additional stages' to operation Protective Edge, his government's response to continued rocket fire on Israeli towns and cities by Gaza militants.
A ceasefire is "not even on the agenda," Netanyahu told members of the influential Knesset Foreign Affairs and Defence Committee, just hours before his call with the US leader. A rocket fired from Lebanon struck a gas station near Israel's northern border, the Israeli military said.
Lebanon's state-run news agency said two rockets were fired from the country. No one immediately claimed responsibility for the strikes, which prompted Israel to retaliate with artillery fire toward the source of the firing.
Israel military spokesman Lt Col Peter Lerner said it was unclear whether the new front was "symbolic or something more substantial." Meanwhile, eight Palestinians were killed in Israeli airstrikes overnight, Gaza's Ministry of Health said. Five Palestinians were killed and 15 injured in Rafah after the Israeli air force targeted the Ghannam family home.
A toddler was also killed in Rafah after being injured by shrapnel from an airstrike while another person was killed in eastern Rafah. In GazaCity, Israeli warplanes targeted a fifth-floor apartment building, killing one.
Gaza's ministry of health said that 98 Palestinians have been killed and over 600 injured in the Israeli offensive during the past one week. Over 300 homes have been totally destroyed or severely damaged and around 2,000 Gazans have been made homeless, Palestinian media reported.
Senior Hamas member and the movement's former prime minister in Gaza, Ismail Haniyeh, remained undeterred by the attacks and ruled out any backing down by the group.
"The enemy (Israel) is the one that started this aggression and it must stop, because we are (simply) defending ourselves," Haniyeh said in a statement early Friday. Gaza militant factions continued to fire rockets and mortars on various parts of Israel with a rocket hitting a fuel tank near a gas station in Ashdod, causing severe damage and a fire.
One person was critically injured by the strike, while seven other Israelis were lightly injured, Magen David Adom rescue services said. Gaza militants have fired 407 mortars and rockets that struck Israel, while another 118 rockets were intercepted, an army spokesperson said on Friday morning.
Schools and kindergartens remained close in the 40 kilometer radius around Gaza in Israel's southern parts and people continued to stay close to shelter houses.
© Copyright 2023 PTI. All rights reserved. Republication or redistribution of PTI content, including by framing or similar means, is expressly prohibited without the prior written consent.