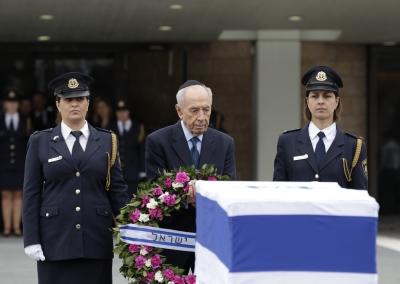 Former Israeli Prime Minister Ariel Sharon, hailed as a military hero at home and loathed in the Arab world as a war criminal, was on Monday laid to rest at his family ranch in southern Israel after a state funeral.
Israel honoured Sharon with a three-part state funeral, beginning in the Knesset (Parliament) plaza and ending with his burial at his Sycamore Ranch, the family home in the Negev.
Sharon, who died on Saturday at the age of 85 after eight years in a coma following a severe stroke at the height of his power in 2006, was buried next to his wife Lily in a ceremony that attracted tens of thousands of mourners from across the political spectrum.
Security was on high alert for the funeral given its close proximity to the Gaza Strip ruled by Islamist Hamas.
The Knesset ceremony was attended by dignitaries from around the world, including United States Vice President Joe Biden, former British prime minister Tony Blair, Czech Prime Minister Jiri Rusnok, German Foreign Minister Frank-Walter Steinmeier and Russian Duma Chair Sergey Naryshkin.
Israel President Shimon Peres eulogised Sharon as a "friend, leader and general."
"Our great leader, rest in peace. The land from whence you came will embrace you in its great and warm arms of the history of our people," he said as Sharon's flag-draped coffin stood on a black marble plinth.
Israel Prime Minister Benjamin Netanyahu, an opponent of Sharon's withdrawal of all troops and settlers from Gaza in 2005, hailed Sharon as "one of the greatest generals that the Jewish people and the Israel defence forces had ever known."
"Israel's independence was dependent on a generation of Jewish fighters that renewed our heritage of Jewish heroism in the land of Israel, and Sharon played a central role in building this heritage," he said.
Biden, wearing a black Jewish skullcap, in his tribute at the Knesset, said, "The security of his people was always Arik's unwavering mission -- a non-breakable commitment to the future of Jews, whether 30 years or 300 years from now."
Biden said he had known Sharon for more than 30 years, and that as a young senator, upon being invited in to Sharon's office, it did not take him long to understand why the general had earned the nickname of "bulldozer".
Blair remembered Sharon as "passionate" about his country and a "giant in this land."
Following the Knesset ceremony, a military convoy took Sharon's coffin to Sycamore Ranch. The convoy stopped in Latrun, where the general who fought in almost all of Israel's wars received a special salute by IDF's general staff.
Following the ceremony in Latrun, which was closed to the public, the funeral procession headed to Anemone Hill, where Sharon was laid to rest beside his late wife, Lily.
At the burial, speeches were made by his sons, Omri and Gilad, and by army chief of staff Benny Gantz.
Massive screens broadcasting the funeral ceremony were placed at a distance away from the site of the grave to enable crowds to watch the burial. A separate tent was set up for media teams from around the world.
Sharon, a hardliner revered by Israelis as 'Mr Security' for his contributions in all the major wars fought by Tel Aviv and reviled across the Arab world as the 'butcher of Sabra and Shatila', was elected prime minister in 2001 and served until he suffered a stroke that left him comatose.
A controversial military leader, Sharon had a long and tumultuous political career and his ruthless methods earned him the moniker 'The Bulldozer'.
While serving as defence minister in 1982, he masterminded Israel's invasion of Lebanon. During the invasion, Lebanese Christian militiamen allied to Israel massacred hundreds of Palestinians in two Beirut refugee camps -- Sabra and Shatila -- under Israeli control.
Sharon was the first Israeli PM to visit India in 2003, eleven years after the two countries established diplomatic ties.
"Sharon was a criminal, responsible for the assassination of (Palestinian president Yasser) Arafat, and we would have hoped to see him appear before the International Criminal Court as a war criminal," Jibril Rajoub, a senior official of the Fatah party, had said after his death.
Thousands came to the Knesset yesterday to pay their last respects to Sharon who died on Saturday at the age of 85 after remaining in coma for eight years.
"I am sure that among those who came, there are those who disagreed with him politically, but they all respected him," Knesset Speaker Yuli Edelstein said.
Image: Israel's President Shimon Peres prepares to lay a wreath on the flag draped coffin of former Israeli prime minister Ariel Sharon as he lies in state at the Knesset, Israel's parliament, in Jerusalem

Photograph: Ronen Zvulun/Reuters