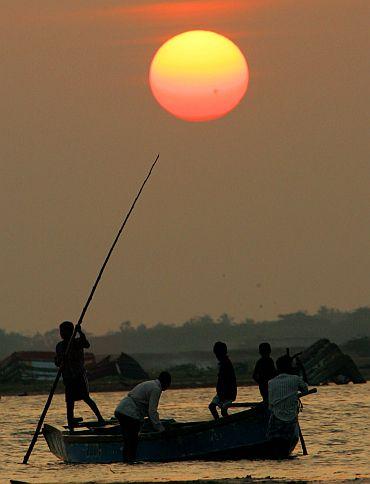 Terror groups are building a base in south India and using the sea route to smuggle in arms and drugs. Vicky Nanjappa/Rediff.com reports.
Security agencies in Tamil Nadu are on tenterhooks and they have every reason to be.
After the twin explosions aboard a train at the Chennai central railway station on May 1, which killed one woman and injured 14 others, security officials believe Pakistan's Inter-Services Intelligence directorate may have made inroads into Tamil Nadu.
The arrest of a Sri Lankan man, Zaheed Hussain, a couple of days before the blasts, these officials believe, is a telling sign of this security threat.
Hussain told his interrogators that ISI-led terror groups are planning car bomb attacks in Chennai and other parts of Tamil Nadu, Intelligence Bureau agents revealed to this correspondent.
While Hussain has not disclosed much about the May Day explosions aboard the Bengaluru-Guwahati Express, officials say they have information about how the ISI is making inroads into south India, particularly Tamil Nadu.
Even as the terrorists plan attacks in the region, IB agents reveal the ISI is careful about not wanting to damage the economic gains which accrue to it through the sea route.
The ISI and its operatives, IB agents believe, transport narcotics and weapons on the high seas from Sri Lanka to Tamil Nadu and Kerala. This oceanic route has been used for centuries by smugglers, and the same route is used by the ISI and its operatives today to smuggle drugs and weapons.
The Tamil Nadu police's Q branch has tried to curb the smugglers, but can do little since international waters are out of its jurisdiction.
Hussain, the IB agents say, disclosed that the ISI has recruited Muslims from eastern Sri Lanka to build a network between Sri Lanka and south India. The ISI, Hussain told his interrogators, is also on the look out for recruits in Tamil Nadu.
"Hussain told us it was important for the ISI to recruit locals for better logistics," an IB agent told this correspondent.
Authorities investigating the Chennai blasts have meanwhile started looking at Karnataka, as they suspect a terror module in that state could have provided assistance in the attack. Presumably, the bomber(s) boarded the train in Bengaluru.
An officer associated with the Chennai investigation told this correspondent, "These blasts have the signatures of both the Indian Mujahideen and Al Ummah, which make it confusing. We will need some time before we attain finality in this case."
Image: Fishermen at sunset in Tamil Nadu. Intelligence Bureau agents say the oceanic route is now used by the ISI and its operatives to smuggle narcotics and weapons. This photograph is used for representational purposes only.