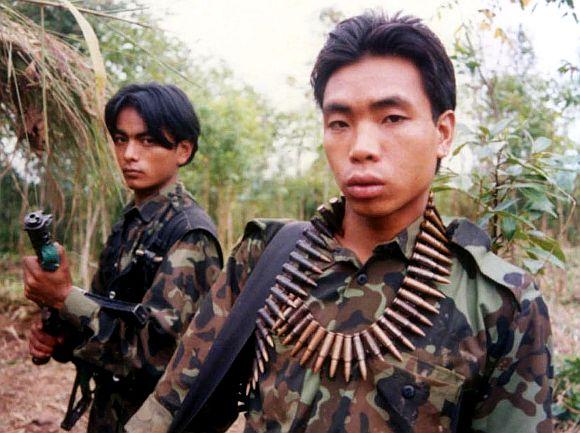 Assam's new Director General of Police, Khagen Sarma on Friday said that Pakistan's spy agency Inter Services intelligence and other external forces are behind United Liberation Front of Asom (anti-talks) faction leader Paresh Baruah's efforts to form a common force comprising all northeastern insurgent groups to fight Indian security forces
The officer added that Baruah was also trying to rope in the Maoists, who he termed as more dangerous a force than the insurgents, and that the ULFA faction leader might convene a meeting of the groups next week.
"Paresh Baruah is bringing northeast militant groups together. He has invited them and the Maoists for a meeting next week. Outside support like that of the ISI's, is also there," Sarma told media persons in Guwahati.

The Kamatapur Liberation Organisation active in Assam and West Bengal as well as the anti-talk NDFB (Songbijit) group were also invited by Baruah for the meeting, the DGP said who took charge on Friday.

"This kind of experiment has failed earlier. If they regroup, we will have joint operations with other NE states," Sarma asserted.
The DGP said that the government would like to see Baruah participate in the ongoing peace talks with the ULFA faction headed by Arabinda Rajkhowa.
To a query on which subversive group was the biggest threat to Assam now, Sarma said, "The Maoists are the biggest threat. They have about 100 trained cadres in the state and many supporters."
"If not controlled they will pose a big problem. Four of their top leaders have been killed here and it is a big setback for them," he said.

The Police also has information that the ULFA, NDFB(S) and KLO were planning bomb blasts in different places in the state and target some communities, he alerted.

On the execution of ULFA-I assistant finance secretary and a captain of its "eastern command", Partha Asom alias Partha Gogoi, the DGP said, "The cause for the execution is difficult to understand as he had served the outfit for 25 years".

Partha was executed after being convicted of some "serious charges", including being a police informer and indulging in financial irregularities.
His bullet riddled body was found in a forest in Nagaland bordering Assam on Thursday sparking off anti-Paresh Baruah protests in Sibsagar district.
To a query, Sarma said, "The prevailing law and order situation is comparatively better than before, but no compromise has been made when militant groups come out to indulge in subversive activities".

On his priorities as the new DGP, Sarma said, "Assam has insurgency and ethnic problems. Maintaining peace and harmony will our primary job. How much of it can be achieved depends on the cooperation of the public."
"We will concentrate on taking strong action against militancy, fighting general crimes, taking special measures for protection of children, old and women, besides regulating the traffic movement in the state", he said.

With PTI inputs