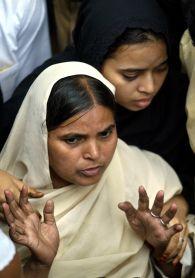 Terming as "absolutely false" the allegation that Ishrat Jahan, who was killed by Gujarat police, had terror links, her sister Musharrat on Saturday claimed she was innocent and murdered.
"The allegation that she had any links with terrorists is absolutely false. My sister was a hard-working innocent girl who was murdered," said Musharrat while addressing a solidarity programme "Justice for Ishrat" organised by civil society members and women's organisations in New Delhi and in Hyderabad, Lucknow, Ahmedabad and Purnea (Bihar).
She said that "after our father's death, Ishrat (who was pursuing her Bachelor of Science programme) used to give tuitions to children for an earning after her college as she had to take care of family.
"She is being termed as a terrorist because she was with Javed. But how can she become a terrorist when she was even afraid of cockroaches?
"I had clarified earlier many times, and today also I want to make it clear that she had met Javed through a local boy as she wanted a job because she couldn't give tuitions as during summer vacations the classes are closed and she wanted money to keep her family going," Musharrat said.
Ishrat Jahan was killed by Gujarat police in an alleged fake encounter in 2004.
"Is it a crime to be a poor Muslim family in this country? Why do we have to prove every time that we are not terrorists? Her killing has badly hurt our reputation due to which our family is broken. But we have faith in our judicial system and truth will come out," said Musharrat.
Condemning the killing of Ishrat, Communist Party of India-Marxist leader and Rajya Sabha MP Brinda Karat said "it reflects Gujarat Chief Minister Narendra Modi's model of governance and "we condemn the politics of intimidation, encounter killings."
"It was a cold-blooded murder of an innocent girl", Karat alleged adding "we denounce this model of Modi's governance in which innocent people were put in jail after being declared as terrorists."
Karat also questioned why three central agencies Intelligence Bureau, Central Bureau of Investigation and National Investigation Agency were spreading "wrong" facts on the encounter killing.
The CPI-M leader accused the UPA government of adopting "double standard" in this case and asked Home Minister Sushilkumar Shinde to clarify the situation and said it was an attempt to protect an official on the ground that David Coleman Headley's statement had given some statement that Ishrat had some terror links.
"But in NIA's report, there was no mention of Ishrat's name. Why this allegation was being spread by the agencies, we want a straight reply from the government on the issue," she said.
Ishrat's mother Shamima Begum, who was also present, termed her daughter innocent and said she wants justice.
"My daughter was innocent and we will fight for her innocence," Ishrat's mother said failing to hold back her tears.
Prior to the start of the programme, the civil society members alleged there were attempts by a section of a right wing party to disrupt the programme.
Ishrat's uncle Rauf Lala alleged he had been getting such threats, from the day they had gone to claim Ishrat's body in Ahmedabad.
"We had gone there just to claim the body but we were treated as if we had just crossed the border. We were detained for 10 hours by Gujarat police and threatened we would be left to rot if we don't withdraw claim from the body or if we want the body, then it should be buried in Ahmedabad at the earliest," Lala said.
"We had never thought that we would have to fight the government. But we decided to fight it out and were threatened and even attempts were made to eliminate the whole family", he alleged claiming "we were attacked even in Mumbra, where we reside".
Image: Ishrat's mother Shamima Jahan Sheikh and sister speaking to mediapersons in Mumbai in this 2004 photograph
Photograph: Punit Paranjpe/Reuters