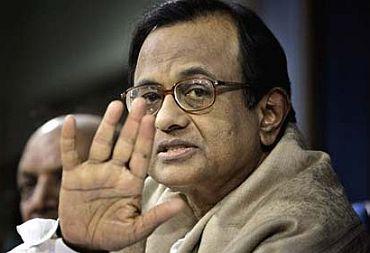 Facing fire from the Bharatiya Janata Party for an alleged "flip-flop" on the Ishrat Jahan case, former Home Minister P Chidambaram on Monday hit back saying the affidavit controversy is only to "divert attention" from the real issue, which is whether it was a "fake" encounter or not.
The senior Congress leader also trained his guns on the government over Union Minister Nirmala Sitharaman's "snub" to Reserve Bank of India Governor Raghuram Rajan saying it has "exposed its inability to tolerate even slightest criticism".
On the Ishrat case, Chidamabaram said on Twitter, "The affidavit controversy is only to divert attention from the real issue in the Ishrat Jahan case. Real issue is whether there was fake encounter and whether four people already in custody were killed in that fake encounter."
Regarding the controversy surrounding the change in affidavits done during his tenure, the senior Congress leader said, "Coming to the affidavits, the home minister does not sign affidavits. It is signed by an under secretary."
He further said in the tweets, "Although I have no recollection of seeing the first affidavit, let us presume that I did. Then came the report of Magistrate SP Tamang.
"This report caused an uproar and there was demand mainly from Gujarat that Government of India... should clarify or dispel misinterpretation being placed on the first affidavit. This is why a second, short affidavit was filed!"
Recently the BJP had dragged Congress chief Sonia Gandhi into the Ishrat Jahan controversy in the wake of new revelations and alleged that then Home Minister Chidambaram was acting on her directions when he filed a second affidavit in the case in an attempt to create roadblocks in the way of Narendra Modi's becoming prime minister.
On the Rajan episode, Chidambaram alleged that the government is "intolerant to the slightest criticism".
"A junior minister was asked to snub the Governor of the Reserve Bank. For what? For quoting an ancient proverb to highlight the fact that instead of getting euphoric, we should be level headed and look at the unfinished task.
"That was the thrust of Rajan's remarks. But they are finding fault with his choice of words? And delivering a snub to him in public! I think far from diminishing the stature of Raghuram Rajan, government has exposed its inability to tolerate even slightest criticism," Chidamabaram said in a series of tweets.
He also said that in his view Rajan was not criticising or disparaging the growth and was only highlighting the unfinished work.