A chilling video of beheading of another American journalist, Steven Sotloff, was on Tuesday posted on social media by Syria and Iraq-based terrorist group, Islamic State.
American officials said the authenticity of the video is being checked by the US intelligence.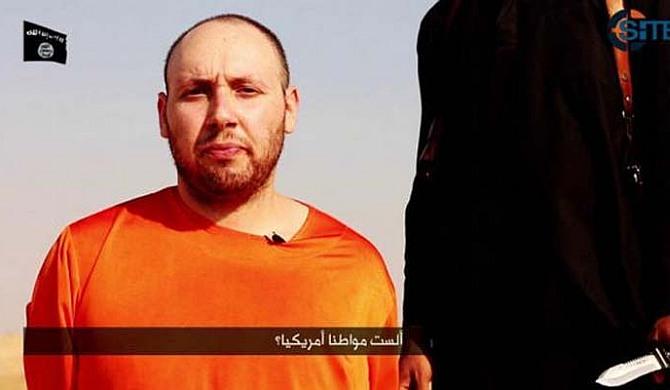 The video titled "A second message to America," shows the beheading of Sotloff, who is seen saying that he is "paying the price" for US intervention in Iraq.
It also threatens the life of British captive David Haines.

The purported executioner appeared to be the same British-accented man who appeared in an August 19 video showing the killing of American journalist James Foley, and it showed a similar desert setting. In both videos, the captives wore orange jumpsuits.
"I'm back, Obama, and I'm back because of your arrogant foreign policy towards the Islamic State, because of your insistence on continuing your bombings and in Amerli, Zumar and the Mosul Dam, despite our serious warnings," the man said, addressing the US president. "So just as your missiles continue to strike our people, our knife will continue to strike the necks of your people."
The news broke out during the daily White House news conference.
"I have not seen those reports today. I think that may have just happened in the last few minutes while I have been standing up here," White House Press Secretary Josh Earnest, told reporters at his daily news conference.
"This is something that the administration has obviously been watching very carefully, since this threat against Sotloff's life was originally made a few weeks ago. Our thoughts and prayers, first and foremost, are with Mr Sotloff and Mr Sotloff's family and those who worked with him," he said in response to a question.
The US has dedicated significant time and resources to trying and rescue Sotloff, he said.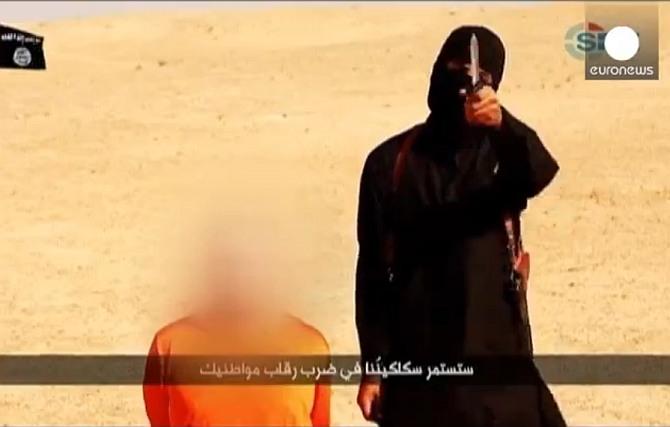 "I am not in a position to confirm the authenticity of that video or the reports at this point, obviously, since I just walked out here," the official said.
"But if there is a video that has been released, it is something that will be analysed very carefully by the US government and our intelligence officials to determine its authenticity," Earnest said.
In a two-sentence statement, Sotloff family spokesman Barak Barfi said Sotloff's family, quote, "knows of this horrific tragedy and is grieving privately."
The family has not been told whether the video is authentic, and Barfi said the family does not plan to make any additional comments now.
Sotloff, a freelance journalist, was kidnapped in Syria in August 2013. Sotloff's mother Shirley appealed on August 27 in a videotaped message to Islamic State's self-proclaimed caliph, Abu Bakr al-Baghdadi, for her son's release.
In the video it released last month, Islamic State said Foley's death was in retaliation for US air strikes on its insurgents who have overrun wide areas of northern Iraq.

Reuters quoted Iraq's outgoing foreign minister, Hoshiyar Zebari as saying: "This savage killing... an example of savagery and evil," and said this was evidence of the need for Iraq and the West to defeat the Islamic State.
"We have a common enemy and the whole world is moving in the right direction to stop this savagery and brutality," Zebari said. "The whole world is standing united against IS. They must be defeated so these horrid scenes will not be repeated."
Iraqi Shi'ite Muslim politician Sami Askari, who is close to outgoing Prime Minister Nuri al-Maliki, said: "They are trying to scare the Americans not to intervene. I don't think Washington will be scared and stop ... This is evil. Every human being has to fight this phenomenon. Like cancer, there is no cure. You have to fight it."