The Gujarat Anti-Terrorism Squad on Sunday arrested two brothers with suspected ISIS links who allegedly hatched plans to conduct "lone-wolf" attacks in the state.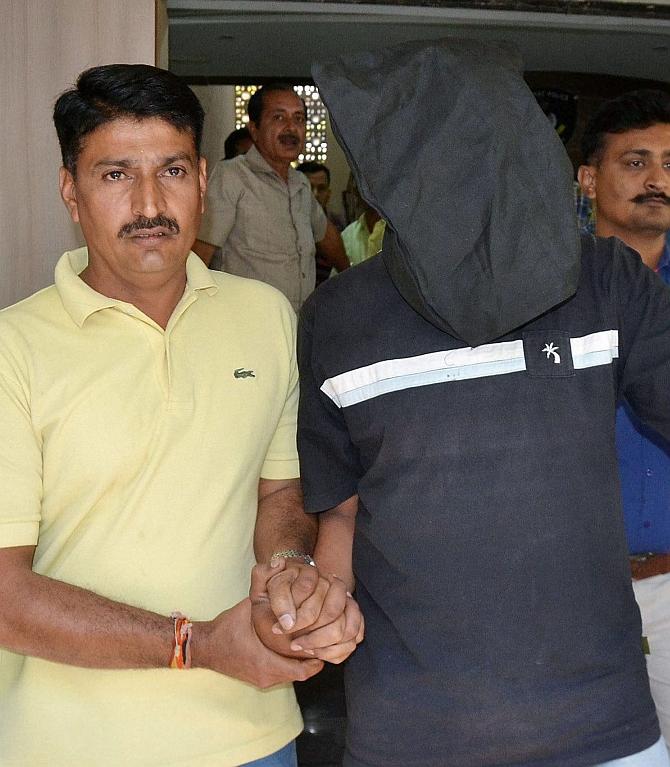 Wasim Ramodiya and Naeem, who have MCA and BCA degrees respectively, were allegedly in contact with ISIS handlers and were planning to target religious places like Chotila, police said, adding they have recovered bomb-making material from them.
Based on a specific information about their alleged activities "inspired by the jihadi ideology of ISIS", ATS officials nabbed Wasim from Rajkot and his younger brother Naeem from Bhavnagar during an early morning operation, said officials.
According to Inspector General of Gujarat ATS, J K Bhatt, explosives as well as jihadi literature were found from these suspected ISIS operatives during raids at their residences in Rajkot and Bhavnagar.
"We have been keeping a close watch on them since last three months, as they were found to be in contact with ISIS through Skype and other social media platforms like Telegram, Twitter and Whatsapp. We conducted raids in Rajkot and Bhavnagar and nabbed the duo," Bhatt told reporters in Ahmedabad on Sunday.
Investigation has revealed that the two had planned to attack the famous temple at Chotila town of Surendranagar district, ATS ACP B S Chavda said.
He said that to create terror, they planned to record and upload the video of the attack on social media. They had also planned to carry out blasts at different places and also set on fire vehicles to spread terror, Chavda said.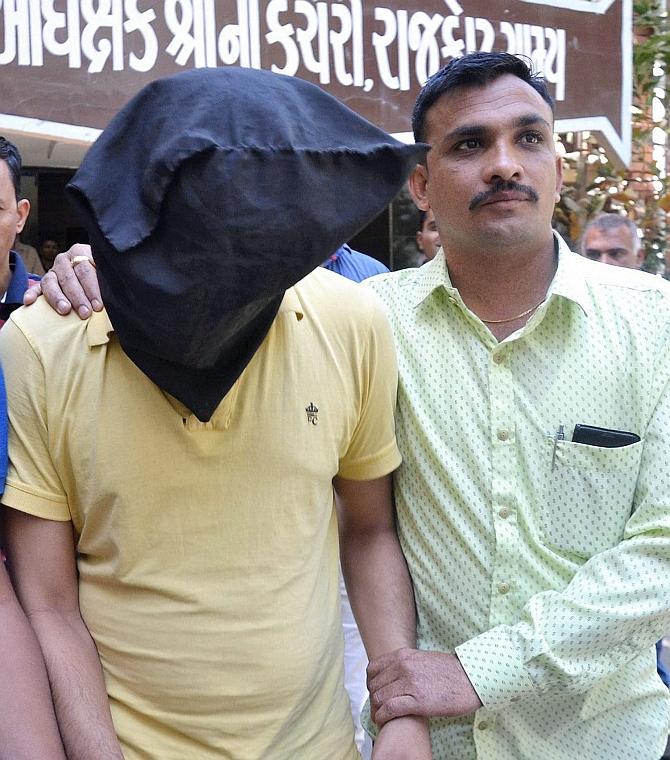 The brothers, who had degrees in computer application, were indoctrinated in jihadi philosophy during the last two years after coming in contact with ISIS literature online, Chavda said.
They were also in touch with ISIS' controversial preacher Mufti Abdus Sami Qasmi, arrested by NIA in February 2016, said the officer.
"They were on our radar since last three months. When we arrested them, they were in the process of making an improvised bomb to carry out lone-wolf style attacks," he said.
Lone wolf style attacks are those wherein a person prepares and commits violent acts alone without assistance from any group. However, he or she may be influenced by the ideology of an external group, and may act in support of such a group.
Arif Ramodiya, the father of the suspects, claimed that he did not have any knowledge about the activities of his sons.
According to him, Wasim used to work at a Rajkot-based graphic designing firm after completing his MCA, while Naeem used to work with a ship recycling unit in Bhavnagar after completing his BCA.
"I came to know about the activities of my sons only after police raided my residence and arrested Wasim. I had absolutely no idea about their allegiance with ISIS.
"No one from my family knew about it. This is really shameful for me. It has ruined my reputation," said Arif, who was visibly shocked over the arrests.
In his interaction with media, Bhatt said that the duo were held just in time, as they had hatched a plan to carry out bomb blasts at some religious places soon.
"They were in touch with some unknown handlers of ISIS based in Iraq and Syria. We have nabbed them before they could execute their plan to attack some religious places in Gujarat," said Bhatt.
"They had plan to escape to Iraq or Syria after carrying out attacks here," he said.
"They were attracted to ISIS two years back and started taking interest in its activities. They were in contact with main ISIS persons as well as unknown handlers to get guidance. Evidence collected during raids, including some audio clips, established that the duo were having links with the terror outfit," said Bhatt.
According to Bhatt, "incriminating" material was allegedly found during these raids.
Their father Arif Ramodiya is a retired employee of Saurashtra University and currently works as a cricket umpire.
"While Wasim used to live with his father in Rajkot, Nayeem lived in Bhavnagar. We have recovered gun powder, some jihadi literature, a manual on how to make bombs, some hand made bombs and a battery during our raids. As of now, we have not found any involvement of other family members in this conspiracy," said Bhatt.
During the raids, police seized computers and mobile phones with jihadi literature and masks to hide their identity during terror attacks, added Bhatt.
They have been charged under IPC and Unlawful Activities (Prevention) Act (UAPA) and Explosive Substances Act.
They are likely to be produced in a local court of Rajkot on Monday for transit remand.
According to his neighbours, Wasim was very introvert and never talked to anyone.
"This family is living here since last 15 to 20 years. But, Wasim never talked to anyone or made any friends here. We are shocked to learn about his activities," a neighbour told mediapersons outside Ramodiya's house.
Images: ISIS suspects Wasim Ramodiya and Naeem Ramodiya being taken away after they were arrested by Gujarat ATS on Saturday night in Rajkot. Photographs: PTI Photo