At a press conference, the Congress posed 11 questions to the PM over the Lalit Modi controversy, asking if the Modi sarkar would also extend such help to Dawood Ibrahim.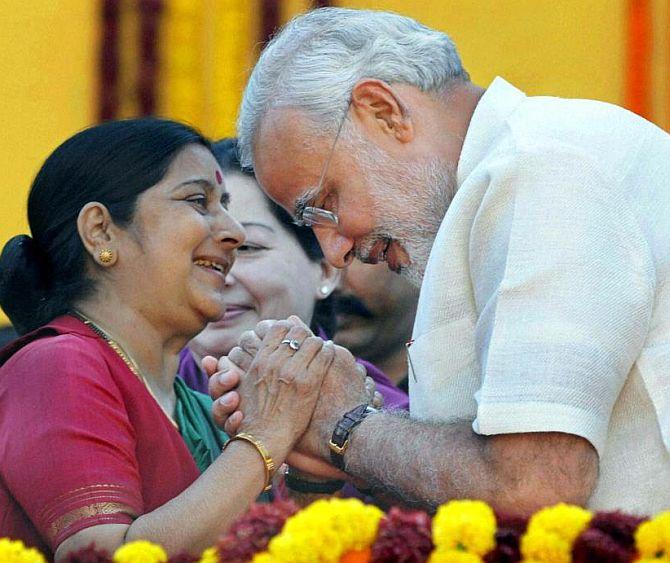 Congress on Sunday demanded the resignation of External Affairs Minister Sushma Swaraj for her help to Indian fugitive Lalit Modi in getting British travel documents and dragged Prime Minister Narendra Modi into the raging row, saying "needle of suspicion rests" at his door.
The main opposition party also posed 11 questions to the PM, including "what happens to transparency and non-corruption promise" made by him and how the government would bring back black money if it "supports" such people who are accused of money laundering to the tune of Rs 700 crore.
"People are asking 'is (PM Narendra) Modi helping (Lalit) Modi," Congress spokesman Randeep Singh Surjewala told a press conference.
Rejecting Swaraj's defence that she helped Lalit Modi on "humanitarian grounds", Surjewala alleged quid-pro-quo, saying the former Indian Premier League Commissioner had helped her husband Swaraj Kaushal in securing admission for his nephew in a UK university in 2013 and he enjoyed proximity to Bharatiya Janata Party leaders, including its president Amit Shah.
Surjewala also wondered if the government had come out with a policy to help criminals on humanitarian ground and if it would be extended to wanted terrorist Dawood Ibrahim too if he sought such a help.
"What we have witnessed today involves blatant quid pro quo, direct help to a fugitive from law, internecine warfare between the top echelons of government and unraveling of the nexus between BJP leadership and its crony criminal friends... Swaraj should immediately step down," he said.
He sought to know if the PM was aware of Swaraj's help to the former IPL chief and said he must come out with a statement to make facts clear. "The role of the PM is under a cloud of suspicion as to whether there was a tacit endorsement of the action... The needle of suspicion rests at the door of the office of the PM," he said.
Noting that Lalit Modi was wanted in cases involving money laundering of Rs 700 crore, he took a dig at the PM over his promise of bringing back black money.
"What happens to the transparency and no-corruption claims of the PM when it is apparent that his own government is actively helping a fugitive from Indian law accused of financial bungling and money laundering?" he said.
The party also released several e-mails purportedly exchanged between Lalit Modi and British MP Keith Vaz over the issue. In one mail, Vaz writes, "From the horses mouth! I will do a thank you we will need her again."
Surjewala also sought to know if the BJP government had changed India's stand on Lalit Modi's extradition from the UK as the previous United Progressive Alliance dispensation had been pressing for it.
The then Finance Minister P Chidambaram had written twice to the UK government besides taking up the issue in his meeting with his British counterpart in 2013, the Congress spokesman said.
"What action do the PM and finance ministry propose to take against Lalit Modi in light of the fresh revelations? Do they propose to compound and close all the offenses of financial bungling, illegal betting and money laundering against him," he asked.
Taking a swipe at the Modi government, he wondered if this is its new policy to help all fugitives of law on humanitarian grounds. "Is this declaration of policy per se not against national interest and shameful?"
Noting that BJP had demanded resignation of the then Union minister and Congress MP Shashi Tharoor as his wife allegedly owned a 'small' stake in an IPL team, Surjewala asked if the PM and BJP will now apply the same yardsticks of "moral and constitutional propriety and accountability".
Hinting that Lalit Modi's equations with several BJP leaders, including Rajasthan Chief Minister Vasundhara Raje besides Shah, might have played a role in Swaraj's help to him, the Congress leader wondered if it was done with the prior approval of Narendra Modi.