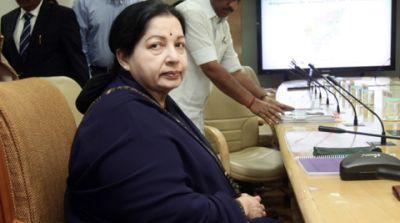 M Karunanidhi's remark about the Tamil Nadu CM's health sets off speculation.
New Delhi is agog with speculation about the health of Tamil Nadu Chief Minister Jayalalithaa, with SMSes flying thick and fast about the possibility of her travelling abroad for treatment.

Insiders in AIADMK headquarters confirmed that Jayalalithaa, now 67, has been unwell for the past two months and undergoing medical treatment in her home in Chennai. Of course, she attends office for three hours every morning, and also took the oath of affirmation as a member of the Tamil Nadu assembly last week.
All India Anna Dravida Munnetra Kazhagam members of Parliament and other senior leaders including Deputy Speaker Munisamy Thambidurai, who are in North India to attend parliamentary meetings, were a worried lot and have been in touch with Chennai over developments.
For the past few days, some Union ministers have been keen on discussing the Goods and Services Tax proposal with her in order to garner the AIADMK's support. With the Chief Minister's Office not responding positively to them, that has added to their concern
BJP leaders have also begun to cross-check the rumours about Jayalalitha's health directly with AIADMK MPs who wasted no time in blaming the alarm on their rival, the DMK, for spreading such a rumour – and not without reason.

It all began with former chief minister and long-time Jaya rival, Muthuvel Karunanidhi, telling a public meeting in Tamil Nadu on Wednesday that Jayalalithaa should take complete rest -- adding that a medical bulletin should be issued in order to end the speculation about her health.
This set off a flutter in Tamil media, with some TV news channels even debating why Karunanidhi, who turned 91 last month, was spreading alarm over the state of Jayalalithaa's health.
Incidentally, Jayalalitha's public appearances have been minimal -- even the launch of Chennai Metro on June 29 was done via video conference.