If 'Raja' Amarinder Singh can address the issues of health and education, he is certain to coast to victory, reports Aditi Phadnis.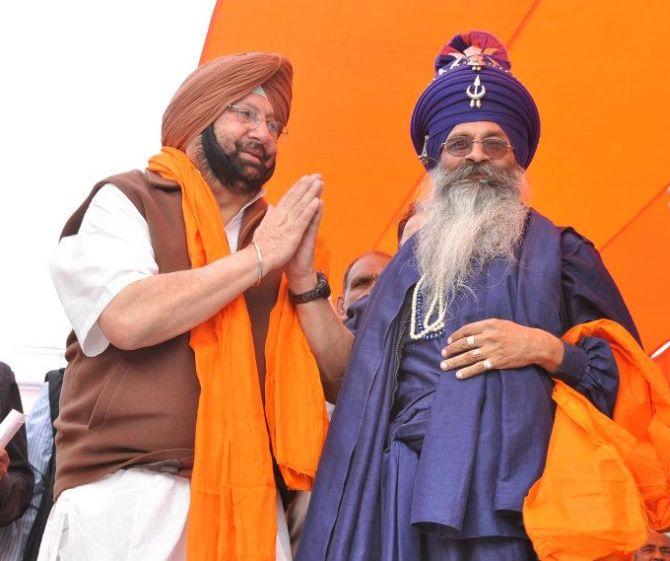 The previous time 'Raja' Amarinder Singh became chief minister (2002-2007), the verdict was not unambiguously in his favour. In the 2002 assembly elections, the Congress won 62 seats out of 116, only three more than the majority mark of 59.
This had never happened before in Punjab. Whether the Congress and Communist Party of India in 1972 (66+10), the Akali Dal and Janata Party in 1977 (58+27), Congress and Communists in 1980 ( 63+9), Akalis supported by the Bharatiya Janata Party in 1985 (73+6), Congress in 1992 (87 seats) and Akalis and BJP in 1997 (75+18), all the ruling alliances had nearly two-third or even more than that to come to power. The Akalis got 44 seats, 49 less than earlier, enough to teach them a lesson but also enough to indicate they continued to have support.
The other reason Amarinder Singh got a lukewarm response had less to do with him and everything to do with his party. Jagmeet Singh Brar and Rajinder Kaur Bhattal were traditional enemies but he added new ones as his tenure went on. He frittered away the first 18 months of his regime in a bitter witch-hunt against the Badals, however legitimate. Development of the state, increasingly a touchstone for elections all over India, came a poor second priority and began only towards the end of his innings. Price rise had its effect on the election. The inaccessibility of the CM became legendary. He was fighting his own natural inclinations, as well as his party.
Now, however, things are different. True, Partap Singh Bajwa is still very much out there but the younger lot, including party vice president Rahul Gandhi, has reconciled to the fact that the Congress' face is Amarinder Singh. The Maharaja saab is -- in tacit recognition of past mistakes -- no longer inaccessible but a commoner, anxious to reach out even if means hanging out with college kids in 'Coffee with Captain' mode.
The ruling class in Punjab is facing a crisis of credibility. After consecutive terms in government, the Shiromani Akali Dal has become bloated and uncaring. Health and education are two areas that have sidestepped the people. If in his new incarnation Amarinder Singh can address these two issues, he is certain to coast to victory. For this, he might not even need his party and its fractious factions.
Water and remunerative agri-commodity prices are two things Punjab needs badly. Ten farmers committed suicide in October alone. The people desperately need someone to hold their hand. The next CM will not have the luxury of time.
Amarinder Singh will do well to remember that.
Image: Amarinder Singh is no longer inaccessible, but a commoner reaching out to one and all through his 'Coffee with Captain' idea. Photograph: Amarinder Singh/Facebook