Defence experts want defence expenditure to be at 3% of GDP, which they consider minimum to counter the two-front threat from China and Pakistan, internal insurgencies, and dominating a 7,500 km coastline and the Indian Ocean beyond.
What Arun Jaitley has given India this Budget is 2.16% of GDP, observes Ajai Shukla.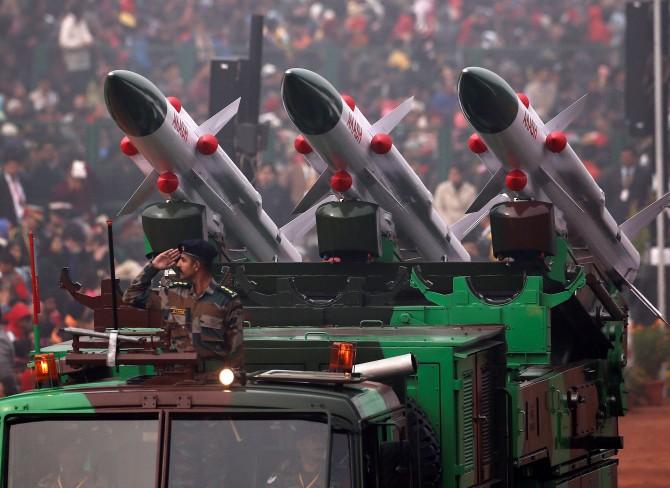 IMAGE: The Akash army launcher seen during the Republic Day parade, January 26, 2018. Photograph: Adnan Abidi/Reuters
The 2018-2019 Budget has raised defence allocations from the current year's revised estimate of Rs 3.74 trillion to Rs 4.04 trillion, an increase of Rs 303.61 billion, or 8.1 per cent, which, analysts say, is insufficient to even cover year-on-year inflation in manpower and equipment costs.
These figures include all government expenditure on defence, such as allocations to the ministry, defence pension, revenue and capital expenditure, research and development, and production.
The defence ministry, for reasons unclear, excludes pension from the Budget figures.
While military planners would be dissatisfied with the small overall increase, the silver lining is the expenditure of the entire capital budget this year without surrendering billions of rupees, as the military did the previous two years.
However, the increase in capital allocations, which have risen from Rs 0.91 trillion in the current year to Rs 0.99 trillion in 2018-2019, constitutes a rise of just 8.9 per cent, which defence analysts and industry regard as inadequate, given the large number of defence procurements in the pipeline.
Jayant Patil, who heads Larsen & Toubro's defence business, says the capital budget had been raised by Rs 80 billion after being largely flat for two years.
"While this is inadequate for India's defence modernisation needs, the additional capital allocation can leverage new contracts up to Rs 500 billion to Rs 600 billion, over and above the contracts concluded this year, assuming that committed liabilities for earlier contracts remain approximately unchanged," notes Patil.
"Overall, the increase seems too small to be able to conclude any large Make in India contracts under the 'strategic partner' route in the current year," he says.
Once again, manpower costs -- especially defence pension -- will account for the bulk of the budget.
The allocation for pensions rose from Rs 878 billion in 2016-2017 to Rs 950 billion in this year's revised estimates -- a rise of 8.1 per cent.
For 2018-2019, the allocation has risen to Rs 1,088 billion, a worrying rise of almost 15 per cent.
Calculating defence spending as a proportion of government expenditure, it has fallen steadily from 17.8 per cent in 2016-2017 to 16.8 per cent in the current year, and is pegged at 16.5 per cent in 2018-2019.
As a percentage of gross domestic product, defence expenditure has fallen steadily from 2.33 per cent of GDP in 2016-2017 to 2.23 per cent in the current year; and is pegged at 2.16 per cent in this Budget.
Several defence analysts, including some closely linked with the ruling Bharatiya Janata Party, have publicly argued for pegging defence expenditure at 3 per cent of GDP, which they consider the minimum for countering a two-front threat from China and Pakistan, combating two-three internal insurgencies, and dominating a 7,500 km coastline and the Indian Ocean beyond.
In his Budget speech, Finance Minister Arun Jaitley, who has been stop-gap defence minister twice in the NDA government, talked up defence reforms.
'We will take measures to develop two defence industrial production corridors in the country. The government will also bring out an industry friendly Defence Production Policy 2018 to promote domestic production by public sector, private sector, and MSMEs,' he said.
Jaitley did not mention there is already a defence production policy of 2011, which was promulgated with fanfare by the United Progressive Alliance government, and then ignored by both governments since.