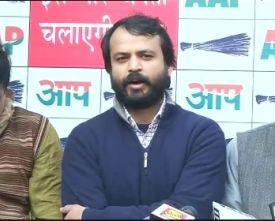 Accusing Union minister Kiren Rijiju of 'misleading' the nation on Rashtriya Swayamsevak Sangh functionaries' alleged role in the Malegaon blast case, the Aam Aadmi Party on Wednesday said there was 'indeed' an evidence, including call records, to prove their 'involvement'.
AAP leader Ashish Khetan said, "Rijuju in his tweet denied existence of senior IPS (Indian Police Service) officer Navneet Rajan's note saying he had been transferred to his parent cadre from the CBI (Central Bureau of Investigation) in 2009 and that there was no question of existence of any such report."
Khetan claimed that Rajan had also prepared a report indicting senior RSS functionary Indresh Kumar.
Quoting the report Khetan said, "These are evidence which can be used against Indresh Kumar. We must examine him to elicit more information. Further we may inform the MHA (Ministry of Home Affairs) about the activities of RSS, as RSS cadres are involved along with top leaders in terrorist activities, to initiate appropriate action as per law."
The former journalist claimed the National Investigation Agency had 'irrefutable evidence against senior RSS leader Indresh Kumar and it wanted to take him into custody for interrogation'.
"One of the clinching pieces of evidence was log of telephone calls between Mr Indresh Kumar and key accused in the blast Sunil Joshi, who has since been killed. Records show that Indresh was in touch with Sunil Joshi. He spoke to Joshi before and after the blast. Call records indicate that Sunil Joshi was talking to Indresh and passing on instructions to other accused and bomb planters," Khetan alleged.
He questioned whether it is not true that the call records between Kumar and Sunil are with the CBI and have been part of the investigation by the NIA.
Seven people were killed in the Malegaon 2008 blast.
© Copyright 2021 PTI. All rights reserved. Republication or redistribution of PTI content, including by framing or similar means, is expressly prohibited without the prior written consent.