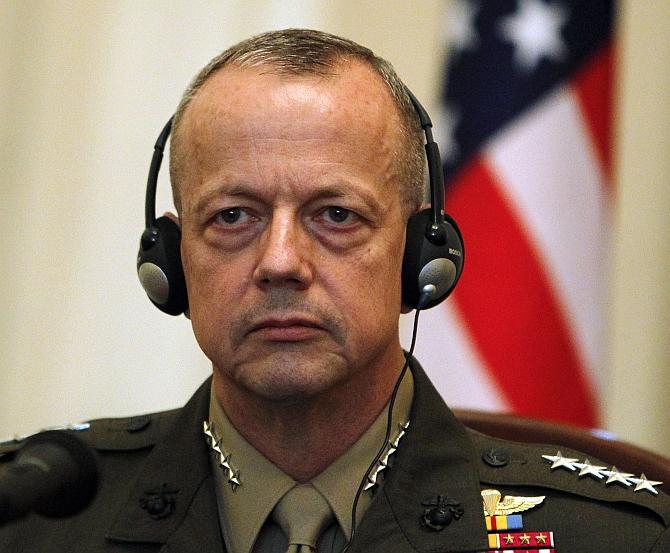 The US remains the only nation on the planet capable of exerting the kind of strategic leadership, influence and strike capacity to deal with the IS, says Gen Allen. Photograph: Omar Sobhani/Reuters
United States President Barack Obama has chosen retired Marine Corps General John Allen, who earlier served as the commander of the US and North Atlantic Treaty Organisation forces in Afghanistan, to head the America-led global coalition against the dreaded terror group Islamic State, earlier know as ISIS (Islamic State of Iraq and Syria).
"In this role, General Allen will help build and sustain the coalition so it can operate across multiple lines of effort in order to degrade and ultimately destroy ISIL," US Secretary of State John Kerry told reporters in Ankara on Friday.
Considered as one of the most experienced and respected American military leaders, Gen Allen has been roped in by the state department to serve as the special presidential envoy for the global coalition to counter the IS. "General Allen is a patriot and a remarkable leader. He is a marine and by "is," I mean "is," because as a navy man I have to admit that retired or not once a marine, always a marine. His extraordinary career in the military speaks for itself," he said.
Allen will be joined by a team of other officials, including Deputy Assistant Secretary of State Brett McGurk who will serve as deputy senior envoy with the rank of ambassador, Kerry said.
"Whether as the top commander of NATO's ISAF forces in Afghanistan during a critical period from 2011-2013, or as a deputy commander in Anbar during the Sunni awakening, or as a thinker, scholar, and teacher at the US naval academy. And he has done significant public service out of uniform since he returned to civilian life. His commitment to country and to service has really been enduring," Kerry said.
Writing for Defense One recently, Allen said the United States remains the only nation on the planet capable of exerting the kind of strategic leadership, influence and strike capacity to deal with the IS.
"It is also the only power capable of organising a coalition's reaction to this regional and international threat. As a general officer commanding at several levels in the region, I can say with certainty that what we're facing in northern Iraq is only partly a crisis about Iraq. It is about the region and potentially the world as we know it," Allen said.
Islamist State fighters take part in a military parade along the streets of Iraq.

Photograph: Reuters
Calling for a strong action against the IS, Allen said it must be destroyed and the US must move quickly to pressure its entire "nervous system," break it up, and destroy its pieces.
In a televised speech earlier, Obama had vowed to "degrade and ultimately destroy" the Islamic State, as he announced a dramatic expansion of the US-led military campaign, including airstrikes for the first time in Syria and the formation of a broad coalition to fight the dreaded militant group so that it would "find no safe haven".