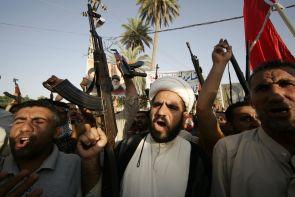 Iraq on Wednesday asked the United States to carry out air strikes on militants who attacked the country's oil refinery and seized territory in the north.
Iraq has made the appeal at a time when fighters led by the Islamic State of Iraq and the Levant have been pressing for a week-long offensive.
"Iraq has officially asked Washington to help under the security agreement, and to conduct air strikes against terrorist groups," Foreign Minister Hoshyar Zebari told reporters in Saudi Arabia.
The United States has deployed an aircraft carrier to the Gulf and increased security at its Baghdad embassy.
The White House on Wednesday said the president had not ruled out using drone strikes to target the insurgents.
Image: Tribal fighters shout slogans while carrying weapons during a parade in Kerbala, south of Baghdad Photograph: Mushtaq Muhammed/Reuters