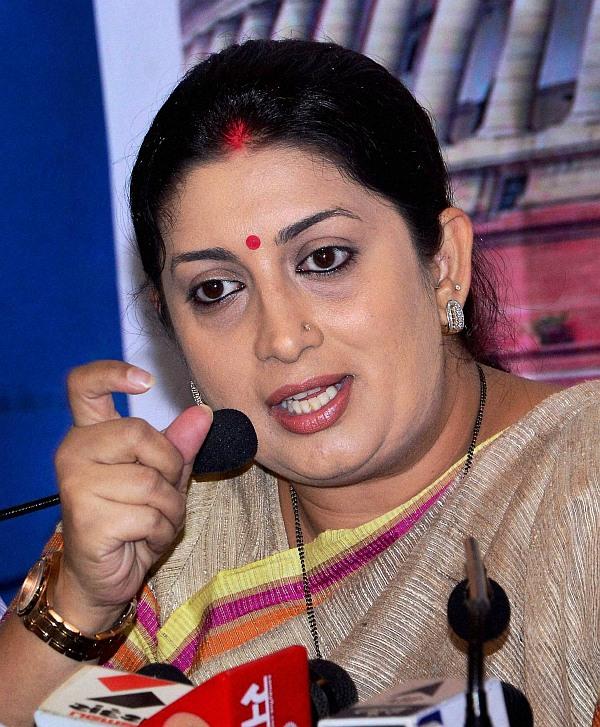 Union Human Resource Development Minister Smriti Irani on Friday rejected a demand for waiving off rustication and other punishments meted out to students in universities, terming it a 'Pandora's Box' and saying that these institutions have been granted autonomy to handle administrative matters.
Irani's comments in Rajya Sabha came in the backdrop of recent action by JawaharlalNehruUniversity authorities imposing fine on student leader Kanhaiya Kumar and rustication of some other students in connection with the controversial February 9 campus event against Afzal Guru's hanging.
Her reaction came during a debate on the functioning of her ministry when Congress member Ananda Bhaskar Rapolu said the students were looking at Irani's 'magnanimity' to waive off punishments and rustication of students in various universities.
In her response, Irani said, "This minister is a mere mortal who is tied to this very Parliament and this Parliament does not allow intervention in the administrative matter of any University. My request is only this. This is a Pandora's Box, I am sure you don't want to open that....Let the University be autonomous enough."
Earlier in the day, members in Rajya Sabha had sought the government's intervention in resolving the protests by the JNU students by advising the authorities to reconsider their decision to severely penalise some of them.
Deputy Chairman P J Kurien had also said the government should resolve the issue and had asked Minister of State for Parliamentary Affairs Mukhtar Abbas Naqvi to convey the feeling of the House to the concerned ministers.
Irani, in her 70-minute long reply, also lamented that there appeared to be a 'Sanskrit phobia' and said the government or National Council of Educational Research and Training have not carried out any change in the curriculum.
Referring to Rapolu who she said had called her 'Sanskrit Irani', she said a recent circular to IITs only asked them to pick up those parts of work in Sanskrit language which contained scientific knowledge.
She said a US university academic came to Tamil Nadu to do research on the oldest treatise in geometry but not many in India know about the contributions made by the country.
"The challenge is where do you bridge the gap. Where do you introduce the subject or for that matter, give the freedom to academicians to absorb it, without being called communal or saffron," Irani said.
Earlier, members in the Rajya Sabha had sought the government's intervention in resolving the protests by JNU students by advising the university authorities to reconsider its decision to severely penalise some of them.
Communist Party of India member D Raja raised the issue during Zero Hour and was supported by several members, including Sharad Yadav of Janata Dal-United.
Seeking government's intervention, Raja said JNU students have been on indefinite fast for eight days and teachers have also joined the agitation.
"The situation is very serious. Condition of students is deteriorating. Last night JNUSU President Kanhaiya Kumar has been shifted to AIIMS. His health has gone down," he said.
The students are protesting against punishment given to some of them in connection with the event during which anti-national slogans were allegedly raised.
© Copyright 2023 PTI. All rights reserved. Republication or redistribution of PTI content, including by framing or similar means, is expressly prohibited without the prior written consent.