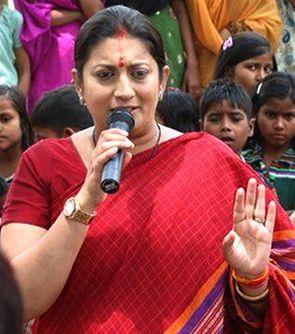 Union Human Resource Development Minister Smriti Irani on Friday found herself in a spot when her remarks that women in the country are not told what to wear, whom to meet and where to go, drew voices of dissent from an audience she was addressing.
"In India, I don't think any woman here is dictated what to wear, how to wear, whom to meet, when to meet....I am of the opinion, I don't think anybody is dictated here, you are not told," she said while interacting with New York-based journalist Tina Brown at an event here.
As many from the gathering vociferously disagreed with the minister's remarks, Brown drew her attention to it.
Putting up a brave front, Irani retorted, "Are you told? I am sorry. I am not. My apologies ladies."
Trying to justify her remarks, Irani said she did not come from a celebrated family but an absolutely lower middle class family which told her to determine her own future.
The minister, however, admitted that there were challenges which everyone has to face.
She said that there were statements even in countries like the United States in which students are urged not to wear 'provocative' Halloween costumes and also to respect other's right to wear what they want to.
It would be naive to assume that problems like domestic abuse and female foeticide are more in rural areas and less in urban areas, she said while noting that a prosperous area like South Mumbai has a high rate of female foeticide.
Asked about the raging debate on intolerance, Irani said that 'India is aware of its challenges but is also adept in handling those challenges through rule of law'.
She emphasised that the country is secular where the oath, even at the highest level, is taken on Constitution and not on any religious book.
Irani was asked by Brown about her earlier criticism of Prime Minister Narendra Modi when he was the Gujarat chief minister, and what made her change her stance later.
"I think I am a living example of Modi's capacity to forgive. I am a living example of Modi's capacity to recognise talent and to reason," Irani said.
She said that in 2004, when Modi met her, he told her not to judge him through newspapers articles, but by his work.
Asked why she chose to join the Bharatiya Janata Party, Irani said that she was associated with the Rashtriya Swayamsevak Sangh, which is ideologically the same family.
"This is ideologically my parivaar (family) and that is why I am here," she said while crediting senior BJP leader late Gopinath Munde of suggesting that she should join politics.
Irani also mentioned the new education policy that her ministry is working on. She said that as a Union minister, she respects the rights of the state governments to work out as they deem fit. In the national education policies, every state will have a voice irrespective of political ideology and inclination.
"I have told all my colleagues that children are not vote banks and in the education sector lies the future of your country," she emphasised.
Irani, who has faced much criticism as the HRD minister, said that she didn't choose the portfolio but was chosen for it.
"No one but people like me can understand the importance of education," she said.
She said that, in Sanskrit, it is said that knowledge makes a person humble. Referring to criticism faced by her, Irani said that when people 'attacked her and did not have the decency to engage with her on ideas, without being caustic', she felt probably they were not as knowledgeable as they seemed.
Talking about the struggles in her life, Irani said that there were times when she had been told that she was not good enough or that she did not look like the quintessential housewife.
She said that she had been given opportunity by Ekta Kapoor in acting and by Modi in politics.
Speaking about her Lok Sabha contest against Rahul Gandhi in Amethi, she claimed that she had reduced the Congress leader's victory margin by 84 per cent.