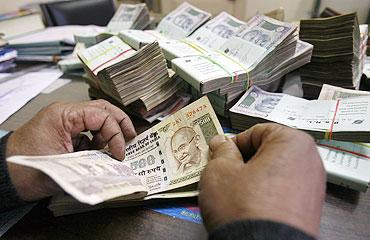 Enforcement Directorate has a tough task on hand as the source of betting money is diverse, reports Vicky Nanjappa
The task ahead for the Enforcement Directorate probing the money angle to the IPL spot-fixing case appears to be Herculean in nature, as there is over Rs 30,000 crore that the betting syndicate has landed into India from more than one country.
The betting syndicate is under the control of operatives not just from Dubai and Karachi; there is a great amount of influence from bookies in South Africa as well.
South Africa came into the picture in 2011 when nearly 30 bookies -- all of them high profile in nature -- shifted base following a crackdown by the Indian police.
An officer with revenue intelligence told rediff.com that there are multiple trails that lead to the betting syndicate in India.
"There are some cases which do not have the involvement of the underworld and the money from this syndicate had come in South Africa, and in some cases London. However, there are some transactions concerning the underworld which came in through networks in the Gulf, Dubai and Bangladesh. Transactions from Karachi have deliberately been avoided by the underworld as they want nothing leading up to Pakistan," he said.
The investigation by the ED would look at not only the money routes; the earnings of those connected with the teams and player earnings would also come under the scanner.
In fact, the days ahead for cricketers are likely to be tough since each and every transaction of theirs will be under the ED lens and the income tax department. Bookies and players who are found guilty will be booked under the Prevention of Money Laundering Act.
The ED would look at the earnings and records of all those involved in the racket from the year of IPL's inception. There are number of states where the police have dealt with this case, and officers from the respective departments would be roped in to probe this case.
In addition, Interpol's role would also become important since the actual culprits are outside India and pumping in money whenever a game is on.

The ED is relying a lot on the revelations by Alpesh Patel, a bookie who was arrested along with Bollywood actor Vindoo Dara Singh, and had pumped in several crores for betting. Patel's statements would be corroborated with the ones made by other bookies and the players who have been arrested in connection with this case.