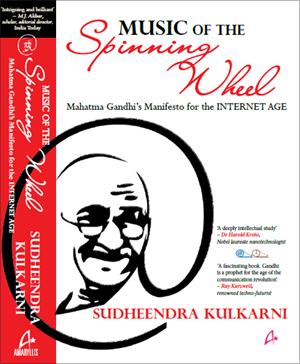 In his book Music of the Spinning Wheel – Mahatma Gandhi's Manifesto for the Internet Age, Sudheendra Kulkarni has attempted to present Gandhi's life and mission in an altogether new and integral light, through the prism of the possibilities and perils of the Internet Age. Perhaps for the first time in Gandhian literature, his book discovers a correlation between the amazing potential of the Internet, which he calls the "species mind of humankind", and the moral message of the spinning wheel.
It also highlights the abiding relevance of this saint-scientist's bold approach, guided by both reason and faith, to every aspect of life -- from economics to education, from nature cure to environment protection, from sex to women's empowerment, and from politics to peacemaking.

This is how Kulkarni puts it: "The Internet is transforming the world in ways that surely cause awe and disbelief. We are now witnessing the beginning of a new era in human history, catalysed by the social media, participative democracy, blossoming of friendships and conversations transcending borders and barriers of various kinds, solar power, nanotechnology, digital manufacturing aka 3-D printing, rapidly growing nonbiological intelligence et al. These could fundamentally change global, national and local economies, nation-states, political and governance structures, communities (virtual communities are growing each day on the Net), media, money, our cities and villages …even our bodies."

Does this change have the potential to realise the timeless ideals that Mahatma Gandhi cherished, and advocated with missionary zeal, through his campaign for khadi and the charkha? Could the Internet become an avatar of his humble spinning wheel? Do digital technologies have the potential to promote universal brotherhood, ensure sustainable development, transform today's globalisation into benign glocalisation, and help build tomorrow's nonviolent, harmonious and ethically guided world?

"My answer is a resounding YES!"
Kulkarni's book argues that Gandhi, who had prophesied the coming of "undreamt of scientific discoveries in non-violence," would have enthusiastically embraced the Internet since digital technologies have the potential to fulfill his own dream of a peaceful, just, harmonious and planet-friendly world. Removal of the man-machine antagonism was one of the strategic goals in Gandhi's economic and moral philosophy, and he made his favorite "spiritual machine," the spinning wheel, the emblem of his revolutionary philosophy.
After surveying modern science's amazing journey from man's outer reality to his inner reality, Kulkarni makes an optimistic prediction: "The marriage of modern technologies with satyagraha and swaraj, understood in the Gandhian sense, will shape tomorrow's just and nonviolent world". However, he also places a cautionary caveat: "The Internet's potential to inaugurate a new phase in human evolution can be realised only if the world's affairs, and also our individual lives, are radically re-ordered along a strong ethical axis. Hence the book's call to denizens of the digital world to become 'Internet satyagrahis'."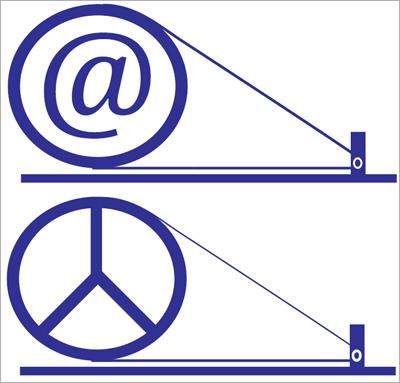 In his pre-publication comment on the book, Anthony J Parel, a widely respected Gandhian scholar, says: "Magnum opus…Young Indian thinkers (should) finally get over their morbid colonial fascination for Marx and Mao."
Nobel laureate nanotechnologist Sir Harold Kroto observes: "Many people are influenced by the lives and actions of individuals who have devoted their lives to great and just causes. This book details the life and achievements of one of the 20th Century's greatest figures, Mahatma Gandhi. Sudheendra Kulkarni has succeeded, in a deeply intellectual and fascinating way, in linking a wide range of related events, actions, and people together. In so doing, Kulkarni has created an intricate story of the way Gandhi's attitude has spread far and wide throughout the world, so giving us hope for a better future for our children."
Kiran Karnik, former NASSCOM president and noted public intellectual, remarks: "Spinning wheel and the Internet. One represents the primitive end of the spectrum of technological evolution, the other its most advanced apex. Yet, this thought-provoking book shows how Mahatma Gandhi's conception of sustainable development and a nonviolent world creates a kinship between the two."
Kulkarni welcomes readers' comments at sudheenkulkarni@gmail.com
Image: Charkha, illustrated by Saurabh Singh, from Music of the Spinning Wheel -- Mahatma Gandhi's Manifesto for the Internet Age