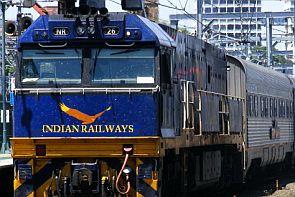 Mahesh Kumar, the main accused in a bribery case in which nephew of Union Railway Minister Pawan Kumar Bansal has also been arrested, was "not interested" in becoming Member (staff) of Railway Board, CBI has said.
In its FIR registered against eight persons, including Bansal's nephew Vijay Singla, CBI said Kumar had agreed to pay "illegal gratification" of Rs 10 crore to co-accused Sandeep Goyal, a businessman, for his appointment at a more lucrative post of Member (electrical) of Railway Board.
"The sources have revealed that Sandeep Goyal informed Mahesh Kumar and Manjunath (co-accused) that present chairman of Railway Board, Vinay Mittal, would retire in June 2013 and Member (Electrical), Kulbhushan, would be posted as chairman of Railway Board. Sandeep Goyal assured that once Kulbhushan is appointed as chairman of Railway Board, he would manage to get Mahesh Kumar appointed as Member (Electrical) through his contacts in the Railway ministry," CBI said.
"Sandeep Goyal demanded an illegal gratification of Rs 10 crore for this purpose, Rs 5 crore in cash before appointment and balance Rs 5 crore after the appointment as Member (electrical). Mahesh Kumar agreed to the demand of Goyal. He (Kumar) was learnt to be not interested in becoming Member (staff), Railway Board, vacancy for which was existing," the agency said in its FIR.

The agency had registered the FIR on Friday and named Mahesh Kumar, Narayan Rao Manjunath, MD of G G Tronics India Pvt Ltd, Sandeep Goyal, Vijay Singla, Ajay Garg, Rahul Yadav, Samir Sandhir and Sushil Daga as accused in the case lodged under various sections of the Prevention of Corruption Act and the IPC.
CBI has arrested Mahesh Kumar and Manjunath from Mumbai and Bangalore respectively.
Singla, Goyal and two other persons, Vivek Kumar and Dharmendra Kumar, have also been arrested in connection with the bribery case in which Rs 90 lakh was allegedly delivered to Singla.
According to CBI, G G Tronics was engaged in the business of manufacturing of railway signal products and automation railway component whereas Goyal's firm Pyramid Electronics, was manufacturing electrical equipments for railways.


CBI, in its FIR, has said Kumar was trying to get himself appointed as Member (electrical), Railway Board, and he, along with Manjunath, was in contact with Goyal for this purpose.

"Sandeep Goyal has assured that he would get the work done in lieu of pecuniary gratification. Sandeep Goyal was further in contact with private persons namely Vijay Singla (resident of Chandigarh) and Ajay Garg of Chandigarh for this purpose," the agency said.

The FIR further said that after being appointed as Member (staff) Railway Board, Kumar, a 1975 batch officer of Indian Railway Service of Signal Engineers, had "requested Sandeep Goyal that until he is appointed as Member (electrical), he should be given the additional charge of General Manager, western Railways...for which Sandeep Goyal has demanded an illegal gratification of Rs 2 crore immediately."
It said Goyal had also wanted that the balance amount for appointment to the post of Member (electrical) be paid later.

Giving details of the transactions, CBI said in its FIR that Kumar was in touch with Manjunath for initial payment of Rs 2 crore to Goyal.
"On being asked by Kumar, Manjunath has offered to arrange and pay Rs 1 crore to Goyal as part of illegal gratification. Mahesh Kumar has assured Manjunath that he would extend official favour, in lieu of which Manjunath has agreed to arrange and make payment of bribe amount," the agency said.

It further said Manjunath was able to arrange only Rs 90 lakh which was to be paid to Goyal on May 3 at Chandigarh.
"Rahul Yadav, Samir Sandhir and Sushil Daga, in conspiracy with Mahesh Kumar, Manjunath and others have arranged to deliver the bribe amount of Rs 90 lakh at Chandigarh. The source has revealed that remaining amount out of the immediate demand of two crore would be arranged by Mahesh Kumar for payment to Sandeep Goyal after 3-4 days," it said.
It said Kumar had entered into a criminal conspiracy with Manjunath and Goyal that "he shall work in their favour."


"The information received has revealed commission of offences under section 120-B (criminal conspiracy) of IPC read with under section 7, 8 and 10 of PC Act ....," the FIR said.