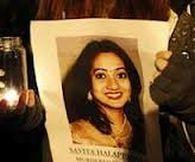 Indian dentist Savita Halappanavar, who lost her life after being denied an abortion at a hospital in Ireland, died of "medical misadventure", a jury at her inquest ruled unanimously.
The ruling at Galway Courthouse found there were systemic failures or deficiencies in the care given to 31-year-old Savita, originally from Karnataka.
"You showed tremendous loyalty and love to your wife. All of Ireland followed the case," coroner Ciaran MacLoughlin told Savita's husband Praveen Halappanavar as he released the verdict at the end of the seven-day inquest.
The jury also accepted all nine recommendations put forward by coroner Ciaran MacLoughlin, including the failure to chart observations of vital signs every four hours, a failure to pass on information about an elevated white cell count, an "inordinate delay" in reporting back on blood samples and issues relating to note-taking.
Dr McLoughlin had also said that the Medical Council should clarify exactly when a doctor can intervene to save the life of a mother, which will remove doubt or fear from the doctor and also reassure the public.
Savita was 17 weeks pregnant when admitted to University Hospital Galway on October 21 last year.
She died a week later from blood poisoning after doctors refused to terminate her pregnancy, telling her that the foetal heartbeat was still present and "this is a Catholic country".
Her husband has also maintained that his wife would have been alive today if her two requests for a termination had not been turned down on the grounds that Ireland is a "Catholic country" with complex anti-abortion laws.
"I am still optimistic. The question that has always been in my mind is why Savita died. It has been very tough.
Today was actually our wedding anniversary so it's even more hard. Hopefully there will be bright days ahead and something good will come," the 34-year-old had told reporters outside the courthouse.
During the hearing this week, leading obstetrician Peter Boylan had said that Savita would probably still be alive if the law in Ireland allowed an abortion as she miscarried before there was a real risk to her life, by which time it was too late to save her.
The case has brought the confusing laws into focus in the country, where the government has since committed to legislate to allow abortion if there is a real and substantial risk to a woman's life by July.
The coroner's recommendation also reiterated calls on the Irish Medical Council to lay out new guidelines on when doctors can intervene to save the life of a mother.
Dr McLoughlin's other recommendations, which will have a strong bearing on such cases in future, are that blood samples must always be followed up to ensure errors do not occur; that proper sepsis management training and guidelines are available for hospital staff and that there is effective communication between staff on call and those coming on duty in hospitals.
The coroner has also recommended that a dedicated time should be set aside at the end of each shift for this to happen; each hospital in the Irish state has a protocol for sepsis management; that modified early warning score charts are introduced in all hospitals as soon as possible; and that there is effective communication between patients and relatives to ensure they are fully aware of treatment plans.
The other two recommendations in the list of nine are that medical and nursing notes are kept separately and that no additions are made to notes, where the death of a person will be subject to an inquest.