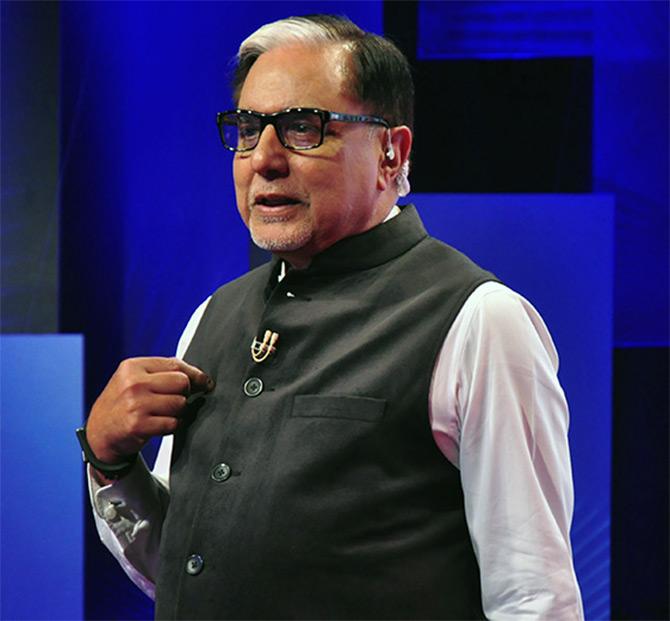 The Election Commission, which is holding an inquiry into the 'ink' row surrounding the Rajya Sabha elections in Haryana held recently, on Wednesday deferred the hearing till Saturday.
While Congress-backed losing candidate R K Anand appeared before Haryana's chief electoral officer, Independent nominee and media baron Subhash Chandra -- who won with the Bharatiya Janata Party's support -- sought more time to appear as he was away after which the matter was put off till June 25.
The Congress alleged Chandra and the BJP were adopting 'delaying tactics'.
Anand was accompanied by Haryana Congress chief Ashok Tanwar and Indian National Lok Dal leader Abhay Singh Chautala.
"All objections and arguments will be registered on the next day of hearing. This is an attempt by Chandra and (the) BJP to buy time, delaying tactics are being adopted," Tanwar alleged.
Tanwar said once the hearing takes place on next date, he will prepare a detailed report and submit it to Congress president Sonia Gandhi.
"After this hearing on June 25, we are going to send a report to Congress President about the entire development which has taken place pertaining to RS elections. Earlier, we had verbally communicated the developments," Tanwar said on Wednesday.
Tanwar also said the Congress had procured affidavits from its MLAs who have stated on oath that they voted for Anand using the pen kept in the state assembly's voting compartment by the Election Commission representative.
When asked if affidavits had been procured from all 15 MLAs -- including former Chief Minister Bhupinder Singh Hooda -- Tanwar only said, "We have taken affidavits from all those we were supposed to take."
Barring one MLA who had openly switched sides and backed Chandra in the June 11 Rajya Sabha polls, main opposition INLD has also procured affidavits from all its remaining 18 legislators in the 90-member assembly.
Abhay Chautala on Wednesday alleged 'there is no doubt bungling has taken place in these polls...If Chandra does not appear on June 25, then the Election Commission should decide the matter in his absence'.
The Congress and Anand had moved the EC, alleging someone had changed the original pen provided by the election officials for a while which resulted in votes of 14 Congress MLAs getting declared invalid.
After seeing the video footage, Anand had charged a ruling BJP MLA with replacing the pen, but the legislator trashed the allegations.
On Tuesday, the Haryana Congress had sought registration of a first information report following a complaint by Anand against the BJP MLA and some others alleging a criminal conspiracy, which led to his defeat in the polls.
They were informed that because of deployment of most of the police officials on VVIP duties in connection with the International Yoga Day, action cannot be taken on the complaint.
Dissatisfied, Congress workers had staged a dharna outside the police station, alleging 'political pressure' on police.
"The Chandigarh Police is not registering an FIR and adopting delaying tactics because of political pressure from the ruling BJP," Tanwar alleged.
However, Sector 3 Police Station House Officer Neeraj Sarna on Wednesday denied any political pressure.
"There is no political pressure. We received the complaint on Monday by registered post. The same complaint was also received on Saturday by email. We are studying the contents of the complaint, we will take action as per law," Sarna said.
On the allegation of delay, Sarna said, "There is no deliberate delay on our part... As you know, in view of the prime minister's visit to Chandigarh in connection with International Yoga Day celebrations, we were busy with security and other arrangements. But we are acting on the complaint."
Anand, in his complaint on June 17 to Chandigarh's Inspector General of Police T S Luthra, has levelled charges against Subhash Chandra, BJP MLA from Ambala Aseem Goel, Independent MLA Jai Parkash and certain officials from the office of Returning Officer and other unknown persons.
He had demanded that they be booked under various Sections of the Indian Penal Code and under the provisions of the Representation of the People Act, 1951.
On Tuesday, Chandra had accused the Congress and R K Anand of lodging a 'frivolous' compliant against him and instead attributed Anand's defeat to differences between the Congress and the INLD over fielding the senior lawyer.