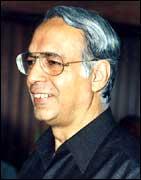 Senior Congress leader V C Shukla, who was injured after heavily-armed Maoists ambushed a convoy of party leaders in Chhattisgarh's Bastar district, was on Sunday airlifted to a hospital in Gurgaon near New Delhi from Raipur.
The 84-year-old Shukla underwent an operation on Saturday in Jagdalpur hospital for removal of three bullets he had received in the attack.
"An air ambulance of MedantaHospital airlifted Shukla around 5:30 AM. His condition was stable," Vikasvijay Bajaj, media coordinator, Chhattisgarh Congress, said in Raipur.
Congress sources said in Delhi that Shukla has been admitted to MedantaHospital.
Heavily-armed Maoists ambushed a convoy of Congress leaders in Chattisgarh's Bastar district on Saturday, killing 27 people including senior Congress leader Mahendra Karma, and injuring Shukla and 31 others.