The American Association of Physicians of Indian Origin will attend the Pravasi Bharatiya Divas in Delhi with an agenda to develop a plan to bring together NGOs and the government to provide access to affordable and quality health care. Aziz Haniffa reports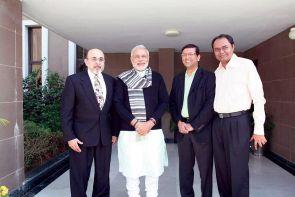 The contingent of the American Association of Physicians of Indian Origin -- the largest and arguably most influential international medical group in the US -- constitutes the largest United States delegation to Pravasi Bharatiya Divas 2014 in Delhi.
They are to bring with them the recommendations and declarations of AAPI's Global Healthcare Summit, which was held in Ahmedabad from January 3-5, to garner support for their implementation.
The GHS was held in collaboration with the Ministry of Overseas Indian Affairs and Ministry of Health and the Gujarat government. AAPI lauded Gujarat Chief Minister Narendra Modi for his cooperation towards making it successful.
Dr Jayesh Shah, the youngest president of AAPI in its 30-year history and the first second-generation physician to be at the organisation's helm, told rediff.com, "We are extremely excited to be able to host this conference in Ahmedabad. We hope we can conceptualise the concept of access to affordable and quality health care in India and globally."
Modi -- who Shah said had accepted every request they made -- was to speak on these issues for India. The event was to be keynoted by the likes of India's Minister of Overseas Indian Affairs Vayalar Ravi, India's Minister of Health and Family Welfare Ghulam Nabi Azad, Gujarat Chief Minister and the Bharatiya Janata Party's Prime Ministerial candidate Narendra Modi, former Indian President Abdul J Kalam, and T K A Nair, adviser and confidante to Indian Prime Minister Dr Manmohan Singh.
"This conference has attracted more than 300-400 international delegates and 1,000 national delegates, and all of the international delegates are experts," Shah said before heading to Ahmedabad. "Several of Gujarat medical college alumni in the US -- and we have over 10,000 of them all across the US -- are taking part in this summit."
Shah said that since the first GHS, organised by AAPI in 2007 to coincide with the PBD, several tangibles that had contributed significantly to the quality of health care in India and US-India cooperation in medical services had been achieved.
"We now have an ongoing cooperation and dialogue regularly with the Ministry of Overseas Indian Affairs, the Health Ministry and the Prime Minister's Office and we are on the verge of a ground-breaking alliance between AAPI, IMA (Indian Medical Association) and the Medical Council of India," he said.
"Some of the tangibles we have achieved working with these ministries and the Indian medical groups are a smoking ban in public places -- which originated in the Indo-US Health Care Summit, organised by AAPI -- the concept of emergency medical care in India, the development of a pocket guide for diabetes and health care providers."
He said, "We have also kicked off infectious diseases fellowships for Indian physicians in the US; mooted a white paper on the status of organ transplantation in India; and funded studies and extensive research on prevention, early detection and management of cervical cancer, prevention of oral cancer, prevention of blindness in young children."
He added, "Also under the leadership of Dr Thakor Patel -- one of our most dedicated and committed leaders -- we have started a Sevak project for diabetes screening in 26 villages. And, of course, our charitable foundation has continued with its sustained work; this year we opened another new AAPI charitable clinic in Cochin. We now have 15 clinics across India, which cater to over 1 million patients every year."
Shah says the sole aim of the GHS is to 'advance the accessibility, affordability and the quality of world-class health care to the people of India' and it provides a forum for 'giving back to our motherland.'
GHS 2014, Shah said, would focus on prevention, diagnosis, treatment options and ways to improve health care, transcending global boundaries.
"On the agenda is how we can foster a working relationship and develop five-year plan on how AAPI, NGOs and the government can work together for providing access to affordable and quality health care," he said.
Shah spoke about the opening of an international training center for Advanced Cardiovascular Life Support/Basic Life Support at the BarodaMedicalCollege in Gujarat, the launch of AAPI diabetes guidelines for all primary care physicians, and a unique session on public-private partnership interaction.
He said, "The memorandum of understanding between AAPI and the American Heart Association that allows AAPI to do basic cardiac life support and advanced life support (training) will be officially signed at our conference. We hope this will decrease heart attacks and strokes in India."
Dr Ravi Jahagirdar, president-elect, AAPI, said the summit would include scientific programs on high-priority areas like cardiology, diabetes, oncology, surgery, mental health, maternal and child health, allergy-immunology and lung health, health information technology and the impact of co-morbidities.
Shah and Jahagirdar said the summit would also include a special session on public-private partnership, featuring AAPI's charitable arm.
Shah said, "We will also announce that AAPI's Sevak project will be expanded from 30 villages to 100 villages across several states in India, and we will launch the Swasth India portal in partnership with the Ministry of Health -- something that was conceptualised two years ago."
They were to also host a seminar on Return to India, where a high-caliber faculty would share the experiences of NRIs -- including the financial, real estate and legal challenges -- who have returned to India permanently.
Shah revealed that the summit would, for the first time, include a major research conference. "Of course, the seminars and workshops will be led by world famous physicians and researchers on a range of topics relevant to developing countries like India and the latest advances on these topics will be disseminated at the summit," he said.
Among those presenting advanced studies and cutting-edge research in areas related to clinical practice and those attending, he said, were Drs John Meiners, executive vice president, American Heart Association; Dennis McChauly, coordinator, American Medical Association; Professors Terry Vanden Hoek and Timothy Erickson from the University of Illinois' School of Medicine; Drs Stefan Lindgren and Rajam Ramamurthy of the Educational Commission for Foreign Medical Graduates; Dr Surendranath Krishan from Australia; Dr Gautam Bodiwala from the United Kingdom; Dr Ramesh Mehta, president, British Association of Physicians of Indian Origin; Dr Sunil V Patel, president, Canada Association of Physicians of Indian Origin; and B R Shetty, chief executive officer, National Medical Corporation, United Arab Emirates; had also confirmed their participation.
He added, "One of our own, Dr Jatin Shah, a world authority on head and neck cancer surgery, who is the professor of surgery at Sloan Kettering in New York; Dr Navin Nanda, the internationally renowned expert on echo-doppler method and president of the American Association of Cardiologists of Indian Origin; Dr Dipen Parikh, professor and chairman, Department of Urology, University of Miami, will also be among the international faculty who will keynote some of our sessions. They will also showcase how some of our Indian-American physicians are the best of the best in the US and should make India proud of them."
Another highlight of the summit was to be a CEO Forum, where chief executive officers of hospitals from around the world, teaching institutions and major health-care sectors -- pharmaceutical, medical devices and technology -- would explore the potential for collaboration.
Shah said billionaire medical entrepreneurs like Dr Kiran Patel of Tampa, Florida, the CEO of Freedom/Optimum Medicare HMO, would apprise participants of medical entrepreneurship and how Indian-American physicians had set up and operated some of the leading health maintenance organisation in the US.
Jahagirdar said the summit would 'display how well the Indian doctors have shown themselves as an effective force in the medical world in the US.'
Image: (From left) Dr Ravi Jahagirdar, president-elect, AAPI; Gujarat Chief Minister Narendra Modi; Dr Jayesh Shah, president, AAPI; and Dr Ronak Shah, chair, local organising committee, Global Healthcare Summit during the planning stages in Ahmedabad, Gujarat.