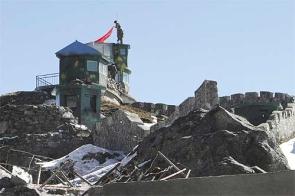 The Chinese troops pulled back following a 20-day standoff and after India conveyed a stern message through its Ambassador S Jaishankar that the incident would seriously impact the relations if it is not resolved. Though the incident figured in the talks between Li and Prime Minister Manmohan Singh, it was left to the meeting of the special representatives to discuss it threadbare and come up with solution.

"The understanding was that we would ask SRs to really lead that effort and they will look into the mechanisms, how they work, what were the shortcomings, how this happened. And if they have suggestions to make, I think both governments will look at it", Jaishankar told media in New Delhi after Singh-Li talks on May 20.
In her briefing on Tuesday, Hua skipped the reference to Depsang problem instead focussed on the fast improving relations between the two countries. "We all know that the boundary issue is complicated issue left over from history. The two countries have made long term efforts of the settlement of the boundary issue", she said.
"Positive progress has already been made in the previous rounds special representatives meeting. For example, we have signed the agreement on guiding principles to resolve the boundary issue and have also reached some preliminary consensus on the settlement of the issue," she said. "We are trying to work together with India to find an equitable, reasonable and mutually acceptable solution to the issue. Pending the final settlement of the issue, we should safeguard the border areas and ensure it will not affect overall development of bilateral relations."
Though there is no official announcement yet, officials in Beijing say Antony would visiting the capital in the first week of July during which the two countries were expected to discuss the border defence cooperation agreement. The two countries also finalised arrangements to resume military exercises to enhance the defence contacts between the two countries. Also, both sides are working out mechanism for dialogue between their three forces, the army, navy and air force in addition to the annual defence dialogue.
Officials say the border talks are currently in second stage of the three-stage process, which has been agreed in the beginning. The first stage was to do the guiding principles which resulted in 2005 agreement on the political parameters and guiding principles for boundary settlement. The second stage is aimed at working out a framework for boundary settlement. Once a framework is put in place, the countries will proceed to actual business of drawing boundary.
India asserts that the dispute covered about 4000 km, while China claims that it confined to about 2000 km to the area of Arunachal Pradesh, which it refers as Southern Tibet.

Image: A Chinese soldier put up a flag atop their post at the India-China trade route at Nathu-La Pass' Photograph: Reuters