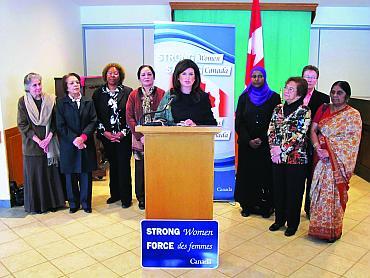 The government has allocated $ 241,000 to the Indo-Canadian Women's Association, Edmonton, Alberta, to deal with violence against women and girls, Rona Ambrose, the minister of public works and government services, and status of women announced on February 11.
A recent study led by Dr Mohit Bhandari, an orthopedic surgeon at McMaster University, Hamilton, had revealed that 42 percent of the respondents had "been abused physically or emotionally by their husbands or intimate partners, boyfriends".

"It is a very serious public policy issue that we are dealing with all over the world. As long as there's violence against women, against girls anywhere in this country, it is a serious issue," Ambrose told rediff.com. "It is happening everywhere in the country, but a lot of our support is going to women who are most vulnerable. We wanted to reach out to more cultural and immigrant communities, aboriginal communities as well, since some of these women may have language barriers or other social barriers. We have women who arrive in Canada with language barriers and are isolated in their communities and don't know what the services are. We want to help them." It's not that there's more violence (against women in cultural communities and among new immigrants)," she clarified. "But they need our support so that they know where the help is available to them… And we have to educate the police to understand cultural differences, and some cultural sensitivities."
To facilitate this, a month ago, the government asked immigrant community organisations to come up with programs within their communities for violence against women.
"What I saw was there weren't services for refugee women, immigrant women. So, I wanted to target the most vulnerable women. This allocation to the ICWA is the first one specifically devoted to that," Ambrose said.
Praising the association's "excellent work in their community against violence against women and girls," she said that the three-year project would involve coordinating community activities, education and awareness, leadership training and peer counseling and as well as educational sessions "with settlement counselors, social workers and teachers and police officers."
The minister said that the government was working on many other projects. These include a $ 145,000, three-year project in the Toronto region to help girls aged 12-16 deal with abuse and violence and a $ 150,000 funding for 18 months for senior Muslim women from Pakistan, Bangladesh, Iran and Kashmir.
"There are lots of such projects we are supporting across the country. We really want to focus on funding," Ambrose said, adding that the allocation for such projects had increased from $10 million to $19 million in a few years.
"We want to support more projects… hopefully we will receive more proposals," she concluded.

Image:  Rona Ambrose at the ICWA function