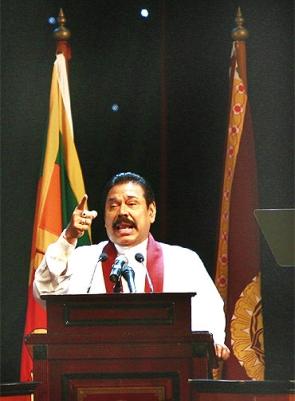 On the eve of the CHOGM summit, allegations of human rights abuses against Tamil civilians during the war against the LTTE today dominated a press conference by Sri Lankan President Mahinda Rajapaksa, who was at his combative best claiming he had "nothing to hide".
At the 30-minute press meet in Colombo on Thursday morning, Rajapaksa also sent out a message to the Tamils -- especially the Diaspora -- that he was willing to discuss issues with them and invited them for talks.
He also promised to take action against anybody guilty of torture and violation of human rights as the government had nothing to hide.
"We are very open, we have nothing to hide," he said.

There was a legal system, human rights commission and the Lessons Learnt and Rehabilitation Commission where people can complain about torture, rape and murder during the war, he said.

Prime Minister Manmohan Singh decided to skip the conference after political parties in Tamil Nadu raked up the issue of killing of Tamils in Sri Lanka and the failure of the Sri Lankan government to devolve adequate powers to the Tamil-dominated Northern Provincial government in Jaffna, saying his presence would give legitimacy to Rajapaksa's "crimes".
Canadian Prime Minister Stephen Harper and Mauritius Prime Minister Navin Chandra Ramgoolam also called off their participation in the summit citing poor human rights record of Sri Lanka. British Prime Minister David Cameron did not agree with heads of government boycotting the summit saying one can express strong views only when he is present.
The Sri Lankan President took the opportunity to express satisfaction over the level of Indian participation in the summit.

"I am satisfied," he said when asked if he was satisfied with the presence of External Affairs Minister Salman Khurshid.
When an Indian journalist told him that Singh skipped the conference in deference to the public sentiments in Tamil Nadu, he shot back, "But he (Singh) has not said it to me."
He was apparently referring to Singh's letter expressing his inability to attend the summit after the Congress core group decided against his going to Colombo.
To another question, Rajapaksa said the Indian Prime Minister had not attended the previous summit in Perth, Australia.
He said, "The foreign minister (Khurshid) is here and I am satisfied with it."
The press conference started on an aggressive note when a reporter asked him about Cameron's statement -- that he had some tough questions for Rajapaksa.
The president shot back, "I will be meeting him (Cameron). I have given him an appointment. When I meet him I will also ask him some questions."
Barring one question, all the queries were related to the war against the Liberation Tigers of Tamil Eelam and the allegations of human rights violations during the war.
Rajapaksa was combative in his response to questions on elimination of "terrorism" and return of "peace" in the island.
The next question was from a Sri Lankan journalist based in Geneva, who thanked the president for "eliminating the world's dangerous terror outfit" and sought to know how he would "save them from the diaspora", a reference to Sri Lankan Tamils settled in various western capitals and campaigning against the island's government.
"I have already invited them to come to Sri Lanka for a dialogue with us. We can have a dialogue. We are ready to discuss the issue with them and listen to them," he said.
But, he said, human rights violations has also been perpetrated by the LTTE.
"There are 14,000 surrendees (LTTE cadre who had surrendered) who had admitted to killing of people and various other crimes. They were fighting the forces. We have taken a reasoned stand by rehabilitating them. Child soldiers were released within a month. For journalists and others it is news. For this we had to pay. For 30 years we suffered. No one made an issue then when there were deaths," he said.
"Today, there has been no single death in the last four years or any terrorist act. There is peace. My policy is to win over even the terrorists. We are trying to talk to them. But we will not allow anybody to divide this country," he said.
Commonwealth Secretary General Kamlesh Sharma, who also addressed the press conference, said they respected the decision of governments about their representation in the summit.
He was fully confident that the outcome of the CHOGM would reflect the values the 54-member Commonwealth stood for in respect of human rights, independence of judiciary and other issues of governance.
Sharma said the Commonwealth has engaged itself with the Sri Lankan Human Rights Commission and was working on areas like torture by the armed forces. He expressed confidence that the CHOGM would make progress on the issue.
The president lost his cool when he answered a question by a British journalist who wanted to know what would he be telling Prince Charles, who is deputising for his mother Queen Elizabeth, when he shakes hands with him on the "dire" human rights record of Sri Lanka and whether the island nation would constitute an independent commission to probe the alleged war crimes.
"Is it not a mockery of the Commonwealth," the questioner said.
The president retorted, "We will not shake hands. In Sri Lanka we say Ayo Bowan (equivalent of namaste). We do this whether it is a King, Queen or a beggar. Thereafter, we will discuss with him. We have in the last 30 years suffered the most. There were a lot of human rights violations. Civilians were killed. A president was killed. We had to suffer. Today no one is killed in Sri Lanka."
"At last people are appreciating that the war is finished. For 30 years, people were getting killed. At last now we have stopped. There is no killing in Sri Lanka. Now we have a legal system. We have appointed an LLRC. We have a human rights commission. Now the Commonwealth has a right to strengthen it. If anyone wants to complaint about torture, rape and murder, we have a system," he said.
"You must respect the culture of the country. If there is any violation we will take action against anybody. We are ready to do it. We are very open. We have nothing to hide. We must meet and discuss. You find out. You must respect the country's legal system," the President said.
Rajapaksa said, "Anybody who wants to know the situation in Sri Lanka should come to the country and have a dialogue with us, not only with the sympathisers of the LTTE."
© Copyright 2023 PTI. All rights reserved. Republication or redistribution of PTI content, including by framing or similar means, is expressly prohibited without the prior written consent.