With the ALS ice-bucket challenge going viral on social networking websites, Indian netizens have come up with their own version, posting videos as they donate rice to those in need.
In line with the mantra of 'charity begins at home', this campaign titled 'Rice Bucket Challenge' is a brain child of Manju Latha Kalanidhi, a Hyderabad-based journalist, who aims to save water and feed the hungry. The challenge involves donating rice to a needy person.
"Cook or buy one bucket of rice or biryani and feed the poor in your locality. If you cannot take this challenge, donate medicines worth Rs 100 to the nearest government," Kalanidhi wrote on her Facebook page.
Manju Latha Kalanidhi, a Hyderabad-based journalist, was the brainchild behind the charity challenge. Photograph: ricebucketchallenge/Facebook

"Within 24 hours of posting this, I managed to begin charity at home...the recipient is Sathibabu, a daily labourer who sells idli dosas," says Kalanidhi. Since then, the campaign has gained popularity among Indian netizens, who are posting pictures and videos while donating rice to those in need and challenging their friends to do the same.
The localised version 'Rice Bucket Challenge. Are you up for the desi challenge?' came up days after the original ALS ice bucket challenge had gone viral, as many users could not get used to the idea of wasting water and encouraging it. Subsequently, this led to the creation of the Indianised version of the challenge.
The biggest mass donation so far, in one of the posts shared by Kalanidhi on her Facebook page, is by 2,000 students of a college who have pledged to donate 2,200 kilogram of rice. Like many internet users, Divya Das, a professional says she readily took the 'Rice Bucket challenge' when she was challenged.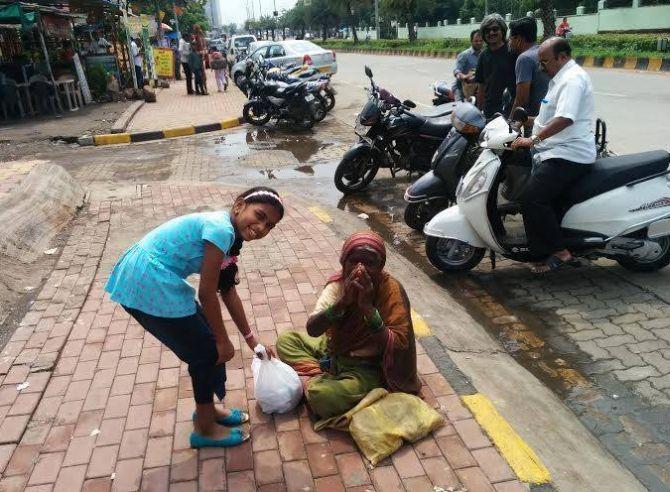 Shiva Shankar from Hyderabad gets his niece Vaishnavi from Pune to donate rice to a woman who works there. Photograph: ricebucketchallenge/Facebook

"Although the popular ALS ice bucket is creating awareness about the disease yet, it comes with its own catch of wasting water," she says adding, donating a rice bucket instead is more viable in India where at every traffic signal one can spot needy people.
Upon being challenged, Divya also added her own twist to it by donating rice to a girl and also feeding a stray dog. "Since the idea was to reach out to as many people who are in need, then why not feed animals too? I love dogs and I thought I should take a step further by feeding a stray dog," she says.
After completing the challenge, Divya posted photographs on Facebook and challenged other friends to do the same.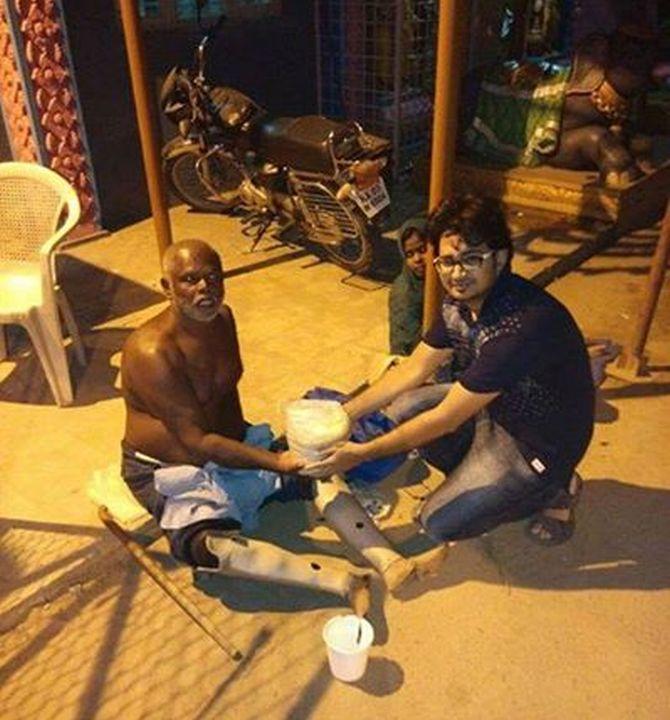 Anurag Rastogi from Bangalore participates in the rice bucket challenge. Photograph: ricebucketchallenge/Facebook

The original ice bucket challenge has been designed to raise funds for amyotrophic lateral sclerosis— also known as Lou Gehrig's Disease and motor neurone disease, which is a global viral phenomenon.
People took the challenge and nominated their friends to pour a bucket of ice water on their head, make a video and upload it on social networking websites such as Facebook or donate money to the ALS Association within a day.
The campaign gained such popularity that within seven days, donations skyrocketed totaling over $100 million, a statement by ALS Association said. As several Hollywood celebrites including Oprah Winfrey and Leonardo DiCaprio took part in the ice-bucket challenge, their Bollywood counterparts also took the challenge.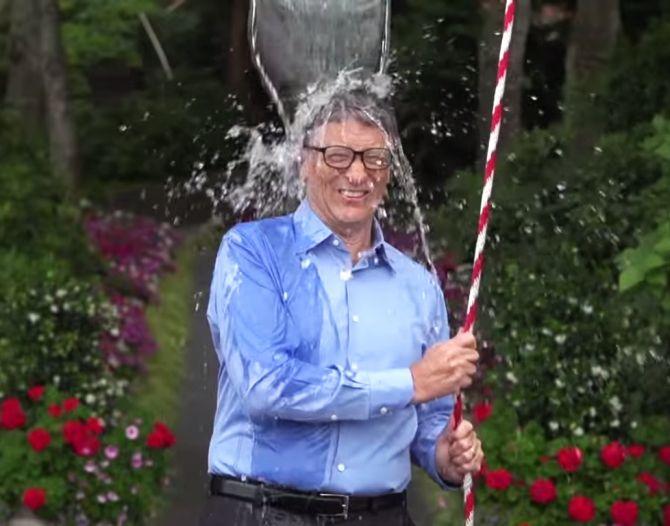 Bill Gates takes part in the ALS ice bucket challenge. Photograph: icebucketchallenge/Facebook