The Indian community in the United Arab Emirates is eagerly waiting to hear and cheer Prime Minister Narendra Modi at a Madison Square-like event in Dubai on Monday that is expected to draw over 50,000 people.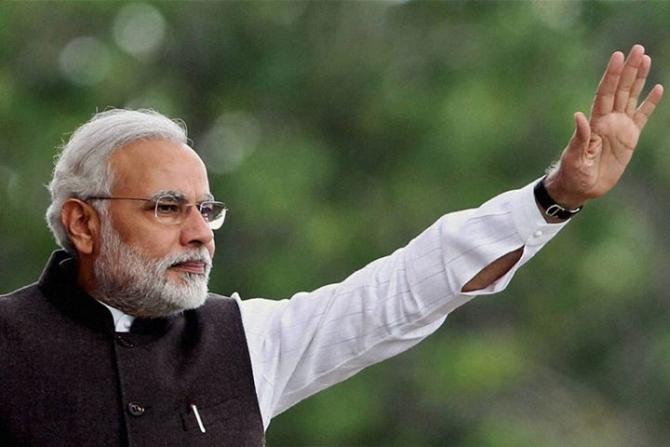 Modi, the first Indian premier to visit the oil-rich Arab nation in 34 years, will be accorded a rousing welcome by the community members at the reception to be held at the Dubai International Stadium in DubaiSportsCity.
About 50,000 Indians have registered for Modi's public reception. Indian residents in Dubai said that they are eagerly awaiting Modi's visit to the city.
Several Indians living in Ajman, Umm Al Quwaiin and Ras Al Khaimah said that they are driving to Dubai to attend the event despite it being a working day.
"He is the pride of our nation," Amit Soni, a resident of Dubai said.
Indian consul general in Dubai Anurag Bhushan hoped that Modi's visit would be truly memorable.
"I hope everyone will come with the national flag and celebrate in the spirit of our brotherhood," he said.
Bhushan praised the efforts of the members of the Indian community in Dubai who are putting a lot of effort to make the event successful.
The Indian Consulate has planned a cultural show to welcome Modi during the reception.
Although the stadium has an expanded capacity of 30,000, the authorities have made arrangements to accommodate more by covering the ground. Huge television screens have been installed outside the stadium for those who would not be able to go inside.
The organisers have made elaborate arrangements to cool the stadium and the air-conditioning system will be switched on a day before to ensure the place is sufficiently cool on the day of the event, the report said.
Dubai temperatures are as high as 42 degrees Celsius and the humidity is almost 60 per cent in the evening.
Shuttle services have been arranged to transport people to the stadium from nearest metro stations as well as from landmark points. Modi's address to the community would be made available in Malayalam and Telugu on FM channel.
A website set up for the occasion has received an overwhelming response.
Although the DCA event is being organised on the lines of Modi's celebrated Madison Garden event, no entry fee will be charged from the audience.
"The executives have done well for themselves. But it is the workers who need Modi's support and encouragement." Aditya Patel, a marketing professional, was quoted by Khaleej Times as saying.
"It's after a long time that we have an energetic and aggressive leader, and it is a matter of great pride," Patel said.
Vaibhav Raisinghani, an MBA student, said, "I've been thinking of excuses on how to leave work early all week."
Some said that they are willing to skip work for a few hours because meeting Modi is a "once in a lifetime event".
"It is not like he comes to visit every few days. Maybe I might not see an Indian leader again in my lifetime. Why should I miss it," said Insiya Asghar, a resident of Sharjah.
Another Sharjah resident Dolly Gir said: "I am coming to Dubai on Monday with a group of friends. I will be missing four hours of work on that day, but I don't mind. I won't get this opportunity again."
Modi is the second Indian prime minister after Indira Gandhi who visited the UAE in 1981.
Indian expatriate community is the largest ethnic community in UAE constituting roughly about 30 per cent of the Gulf country's population.
The Indians in Dubai hoped that Modi will make a good use of his foreign visits and see how governments around the world are creating humane living conditions for their citizens.
"He should see how governments around the world are creating humane living conditions for their citizens and fostering environments that meets basic human needs," said Gunjan Chaurasia, a young Indian professional working in Dubai.
She said the Modi government should ensure that Indians get visa-on-arrival in more countries around the world.
Mansa Kumar, a communications professional who was born and brought up in the Gulf region said, "This visit is about improving ties between two countries and that is how it should be seen."
"I only want to say that Modi came to power with a lot of promise and it is the time for him to deliver," she said.