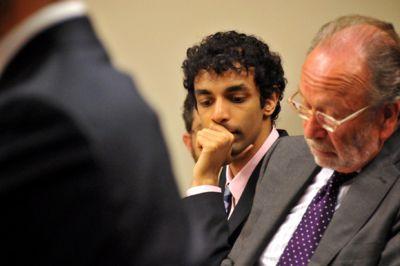 An Indian-origin former Rutgers student, convicted for spying on his gay roommate who then committed suicide, could see his conviction for bias intimidation reversed after the New Jersey Supreme Court ruled that the state's law in this regard was unconstitutional.
The apex court last week struck down a portion of the state's bias crime statute that could win Dharun Ravi a new trial in the Tyler Clementi webcam case, his attorney said.
According to the earlier state statute on bias intimidation, defendants can be convicted of bias intimidation if their victims "reasonably believed" they were harassed or intimidated because of their race, colour, gender, ethnicity, religion or sexual orientation.
However, the state Supreme Court unanimously ruled that the 2001 statute was "unconstitutionally vague", striking down the third section of the statute that focused on the victim's state of mind.
The ruling said that it is the defendant's intent and state of mind that is important, not the victim's.
A report in nj.com quoted Ravi's attorney Steven Altman as saying that the decision directly strikes down one of Ravi's convictions, which was based on that section.
The appeal of Ravi's 2012 guilty verdict that included several bias intimidation charges is still ongoing.
The Supreme Court ruling also brings into question decisions made by the trial judge, Superior Court Judge Glenn Berman.
Now retired, Berman permitted the prosecution to produce evidence of Clementi's state of mind to the jury.
Berman did not permit Altman to introduce evidence during the trial that Clementi was upset over his mother's rejection of his homosexuality and other incidents in his life.
Berman also prohibited Altman from obtaining some items seized from Clementi's possessions and computer, including the suicide note, Altman was quoted as saying.
"Now the argument has to be that the judge permitted evidence that taints the entire verdict," the attorney said.
"The evidence about Tyler Clementi's state-of-mind. Did that prejudice the jury?"
Middlesex County Prosecutor Andrew Carey, however, said that Ravi's conviction "still stands, and it would be inappropriate to comment further given the state's ongoing appeal of the sentence."
The Supreme Court justices said in the 36-page decision that, "whether a victim reasonably believes he was targeted for a bias crime will necessarily be informed by the victim's individual experiences and distinctive cultural, historical, and familial heritage -- all of which may be unknown or unknowable to the defendant."
Altman said he intends to include that language in additional papers he will now file with the appeals court because there was no way for Ravi to know Clementi's emotional state at the time of the incidents.
Ravi was sentenced to a 30 days in jail, three years' of supervised release, ordered to do 300 hours of community service and pay a fine of about USD 11,000 after he was convicted in March 2012 of using a webcam to spy on the sexual encounters of Clementi in September 2010.
Clementi committed suicide days later.
Ravi was released from prison after serving 20 days.
Image: Dharun Ravi
Photograph: P Rajendran/Rediff.com
© Copyright 2021 PTI. All rights reserved. Republication or redistribution of PTI content, including by framing or similar means, is expressly prohibited without the prior written consent.