Soaked in patriotism, hundreds of Indians abroad on Monday proudly marked the country's 70th Independence Day, as the tricolour fluttered and the national anthem reverberated at Indian missions across the world.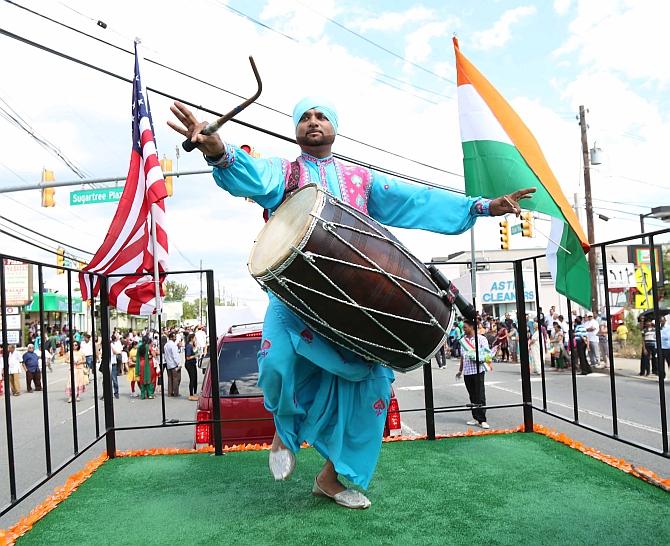 Indian Embassies, High Commissions and Consulates echoed with melodious strains of the national anthem as children and the hundreds of Indians joined to sing patriotic songs in Thailand, Vietnam, Singapore, Malaysia, Yangon, Laos, Cambodia, the Philippines, Indonesia and Brunei.
China
In Beijing, Indian Ambassador Vijay Gokhale hoisted the tricolour in the embassy premises at a function that was attended by members of the Indian community.
A large of number of Indian professionals besides embassy staff took part in the flag hoisting ceremony along with their families.
Gokhale also read out President Pranab Mukherjee's address to the nation followed by recital of patriotic songs.
In Shanghai, Consulate General of India Prakash Gupta hosted the celebrations. Gupta unfurled the tricolour besides reading out excerpts from the President's address. A similar celebration was held at the Indian Consulate in Guangzhou led by Consulate General Y K Sailas Thangal.
United States
In the US, the Independence Day was celebrated on a large scale in Fremont in California and Edison in New Jersey where thousands of people attended the event amid a colorful cultural extravaganza.
In cities like Dallas, Houston, Chicago, Orlando and Minneapolis, community organisations held cultural events over the weekend to celebrate the Independence Day.
The patriotic fervour also gripped Indian missions across Southeast Asia, as hundreds of Indian nationals, ethnic Indians and India lovers gathered.
Thailand
In Bangkok, Indian Ambassador Bhawant Singh Bishnoi said, "2016 has been a most significant year for our bilateral relationships".
Bishnoi, in his speech to over 500 people gathered at the embassy premises, said Thailand remains one of India's "closest" friends.
"People to people linkages are one of the most important aspects of our bilateral relationships. Central to this is the role played by the Indian community," he said and commended the significant contribution by ethnic Indians and Indian nationals to the economic and social development of Thailand.
Singapore
In Singapore, India's High Commissioner Vijay Thakur Singh celebrated the day, reading out President Mukherjee's Independence Day message to some 600 Indians.
Students from local Indian schools also sang patriotic songs and staged dance performances in a cultural show.
In a congratulatory message on the Independence Day of India, Singaporean President Tony Tan Keng Yam reaffirmed strong bilateral relations and underlined that "relations between Singapore and India remain strong and will grow despite challenges in the global economy".
"As our people-to-people relations flourish, I am delighted by the excellent progress in bilateral projects and initiatives on various fronts including trade, skills development, defence cooperation, and Smart Cities development," said Tan.
Malaysia
In Kuala Lumpur, High Commissioner TS Tirumurti hoisted the flag at India House. About 350 people attended the ceremony that also witnessed a Carnatic singing performance.
The High Commissioner also flagged off a Malaysia-Thailand-Myanmar-India car rally by Vinayak Mission that will cover 46,000 Kms and end in Salem Tamil Nadu.
In Hanoi, around 250 members of the Indian community and friends of India attended the hoisting of the tricolour by Ambassador P Harish, who also read out the President's address.
Australia
Flag hoisting ceremonies were also held at Indian consulate buildings in Melbourne, Sydney and Perth apart from Indian High Commission in Canberra.
Extending his warm greetings, Indian High Commissioner Navdeep Singh Suri said that India was on a economic growth path and that the recent passage of Goods and Services Tax bill will further consolidate the nation's position in global economy.
"Our 70th Independence Day comes at a very important of time in our history. Over last two years, India has come to be recognised as the world's fastest growing economy," Suri said.
He added that Indian government was proactively working on several projects including 'Festival of India' initiative project that would help in further strengthening the relations with Australia.
On Saturday, a special event was held at the iconic Federation Square where Bollywood actor Rishi Kapoor hoisted the tricolour along with Suri.
Meanwhile, Australian politicians also attended the celebrations.
New South Wales Premier Mike Baird said, "there are over 138,000 people of Indian heritage living in the state who make valuable contributions to our peaceful and harmonious society".
"The friendship between NSW and India continues to flourish and Indian migrants, students and visitors are welcome to the state in increasing numbers," Baird said.
Egypt
In Cairo, India's Ambassador to Egypt Sanjay Bhattacharyya hoisted the national flag. Members of Indian community and Egyptian Friends of India, attended the celebrations and sang the national anthem.
The function was held at the India House premises in Zamalek.
Israel
In Herzliya, about 300 Indians from all over Israel gathered to celebrate the Independence Day ahead of an expected exchange of high level bilateral visits as India and Israel celebrate the 25th year of establishment of diplomatic relations next year.
India's envoy to Israel Pavan Kapoor hoisted the national flag, calling on the Indian community in Israel to help strengthen bilateral ties.
A cultural programme followed the ceremony, including a Bhangra performance by the Indian contingent at UN Disengagement Observer Force which serves as the border between Israel and Syria.
Senior political sources here said that Israel's President Reuven Rivlin is likely to visit India by the end of this year.
"We are also hopeful that our Prime Minister would visit New Delhi and Prime Minister (Narendra) Modi would come here", they added.
There are about 80,000 Jews of Indian-origin in Israel from four different communities -- Bene Israel from the Mumbai region, Cochinis from Kerala, Baghdadis from the Kolkata region and Bnei Menashe from Manipur and Mizoram.
File Image: 'Bhangra with the beat' on a float during the India Day Parade at Edison, New Jersey. Photograph: Paresh Gandhi/Rediff.com