Judith D'Souza, an Indian aid worker who was abducted in Kabul last month by suspected militants, returned in New Delhi on Saturday after being rescued.
Judith called on Prime Minister Narendra Modi and External Affairs Minister Sushma Swaraj soon after her arrival from Kabul.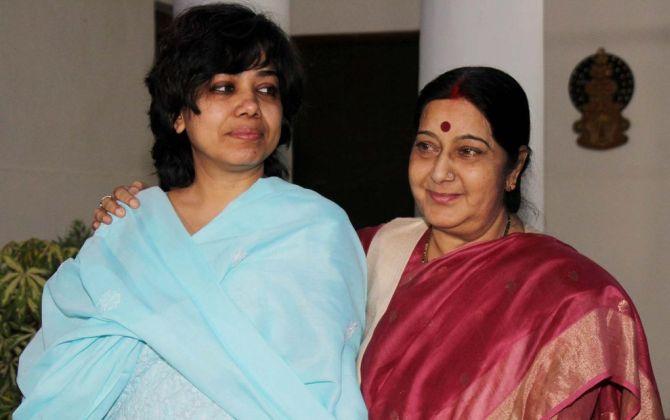 IMAGE: Judith D'Souza with External Affairs Minister Sushma Swaraj. Photograph: MEA India/Twitter
Modi welcomed Judith to India and thanked Afghan President Ashraf Ghani for extending cooperation towards her release.
"Would like to thank the Govt. of Afghanistan, especially President @ashrafghani for their cooperation in bringing Judith home," the prime minister tweeted after meeting her.
The 40-year-old woman, who works for Aga Khan Foundation as a senior technical adviser, was abducted from outside her office in the heart of Kabul on June 9.
Judith, accompanied by Indian Ambassador in Afghanistan Manpreet Vohra, arrived at the Indira Gandhi International Airport at around 6 pm from where she was driven straight to Swaraj's residence.
A visibly emotional Swaraj embraced her warmly, saying "the daugther has returned home". Junior Ministers in the MEA V K Singh and MJ Akbar were also present. Later, the External Affairs Minister accompanied Judith to meet Modi.
"I am happy to inform you that Judith D'Souza has been rescued," Swaraj said, announcing her release through a tweet in the morning.
She also thanked Afghan authorities for securing her release. "Thank you Afghanistan - for all your help and support in rescuing #Judith."
The external affairs ministry was in constant touch with Afghan authorities to ensure the safe release of Judith, who hails from Kolkata.
It was not immediately known who were Judith's captors and how she was rescued. She was abducted along with two other persons.
Delhi MP Meenakshi Lekhi was present when Judith arrived at the airport and the parliamentarian told reporters that she was humiliated during her captivity.
The external affairs minister also lauded the efforts made by Vohra in ensuring Judith's release.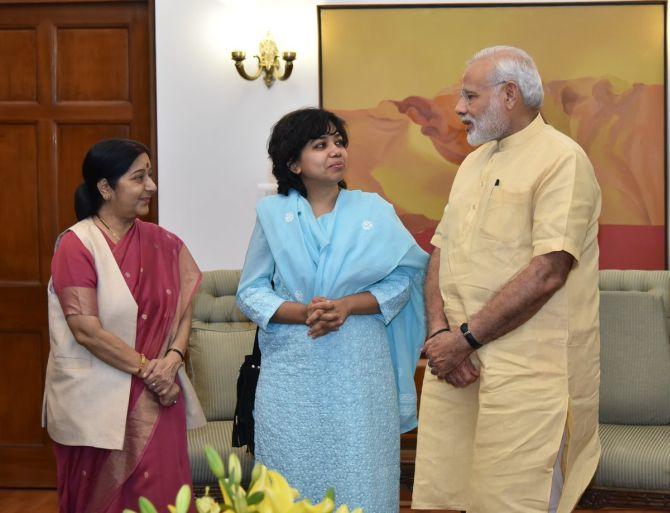 IMAGE: Judith meets Prime Minister Narendra Modi. Photograph: MEA India/Twitter
In Kolkata, her family thanked the government for its efforts to secure her release.
"We are thankful to the Indian government for the rescue of our sister. We are now waiting for her to be back home. We would request the media to respect our privacy," said Judith's sister Agnes.
Judith, who will be travelling to Kolkata on Sunday to be reunited with her family, did not take any questions and requested the media to respect her privacy till she recovers as she had a difficult time in captivity.
Judith's family had last month written to Prime Minister Narendra Modi seeking his intervention for her release.
In the letter, the family members had said the "brave, thoughtful, generous and compassionate" Judith had been working in Afghanistan for the well-being of the Afghan people and "as an ambassador of goodwill from India's people".
During a meeting with Afghan President Ashraf Ghani on the sidelines of the annual summit of Shanghai Cooperation Organisation in Tashkent last month, Modi had requested for his intervention in securing Judith's release.
Swaraj also tweeted that Modi spoke to Ghani four times to ensure Judith's release.
"Prime Minister @narendramodi spoke to President Ghani four times for Judith...Our daughter Judith D'Souza is back with us," she said.
© Copyright 2023 PTI. All rights reserved. Republication or redistribution of PTI content, including by framing or similar means, is expressly prohibited without the prior written consent.